translation missing: en.products.product.price_per_unit_html
No fluff | no inflated costs | no toxic chemicals | no hype
Cruelty-Free

Made in USA

Mission Driven

Multipurpose

Non GMO

Only Natural

Scientifically Proven

Unisex

Vegan
translation missing: en.products.product.price_per_unit_html
Fight bad bacteria and remineralize, naturally.
100% natural, minimally processed, bioactive ingredients —supercharged with nourishing clays, trace minerals, and fulvic acid. None of the junk found in typical "natural" toothpastes & mineral powders, including sweeteners. Zero waste, refillable system eliminates plastic.
"Fantastic!

Akamai Mineral Toothpowder makes my teeth feel incredibly clean. It was much easier to get used to than I thought it would be. I am never going back to toothpaste!"

— Korin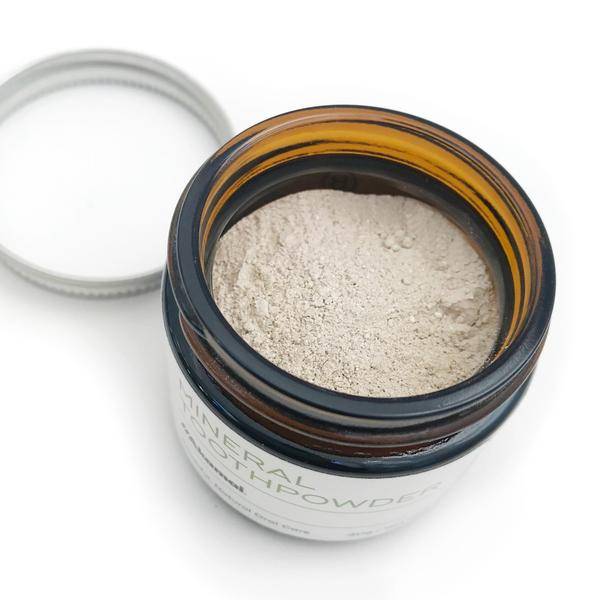 Supercharged with nourishing "living" clays, over 72 bioavailable trace and macro minerals and Fulvic Acid to help support strong tooth remineralization & healthy gums.
Clay, baking soda & organic essential oils absorb toxins and help fight bad bacteria that can lead to tooth decay, gum disease & bad breath.
Alkaline PH reduces harmful bacteria, fights acidity, supports remineralization.
Gently whitens and polishes teeth. Removes stains, while reducing plaque and tartar.
Refillable, plastic-free system. Glass jar with metal lid. Refills come in compostable cellulose pouches. Zero waste.
NO cheap fillers of any kind or artificial ingredients No silica, glycerin, fluoride, nano particles or "naturally derived" ingredients either.
NO hydroxyapatite or nHAp.

Supports remineralization without this ingredient.

NO sweeteners or flavorings.

Every

ingredient we use supports oral health with no added junk.
100% natural food-grade ingredients. Safe to swallow. Vegan & cruelty-free.

Part of our Oral Care System endorsed Dr. Mark Hyman as a Mark's Picks.
2 month supply | 1.9 oz / 40 grams | Made in USA
INGREDIENTS / STANDARDS / SPECS

WHY WE DON"T USE HYDROXYAPATITE
100% Natural. All of our products contain only pure, minimally processed, natural ingredients and nothing else. No synthetic or natural derived chemicals. No cheap fillers, dyes, or fragrances. All color, scents or flavors are simply a byproduct of the ingredients we use.
Ingredients / Standards
Calcium Montmorillonite Bentonite Clay (food grade, non-irradiated), Kaolin Clay (food grade, non-irradiated), Baking Soda (food grade, aluminum free), Himalayan Salt, Fulvic Acid / Trace Mineral Concentrate, Essential Oils of Peppermint*, Cinnamon*, Clove*, Tea Tree*, and Anise. (*Certified Organic)
CALCIUM BENTONITE CLAY & KAOLIN CLAY
Quality Standards
Edible/Therapeutic/Food grade. Certified GRAS. Filtered, unprocessed, and non-irradiated. Mined in USA.
Ingredient Benefits
Rich in bioavailable minerals, including calcium, magnesium, silica, and potassium, all beneficial to teeth and gums. Mildly abrasive to gently polish, clean, and whiten teeth. Binds with toxins and harmful bacteria removing them from your mouth. Macrominerals support the tooth remineralization process.
BAKING SODA
Quality Standards
Food grade, aluminum-free
Ingredient Benefits
Sodium bicarbonate is a gentle yet effective stain remover that also increases alkalinity (high PH) to help reduce demineralization.
FULVIC ACID/MINERAL COMPLEX (POWDER)
Quality Standards
Chemical free / cold water extraction. Independent 3rd party laboratory testing for strength, potency, composition and integrity. cGMP certified, FSMA & HACCP FDA Compliant. Mined from pure, USA clay deposits of ancient plant and marine material.
Ingredient Benefits
Plant and marine-based Fulvic acid, rich in naturally occurring bioavailable trace minerals, macro minerals, amino acids, and vitamins; cell-ready absorption; 72 trace minerals are vital to a host of cellular functions and aid in tooth remineralization.
HIMALAYAN SEA SALT
Quality Standards
Food grade. Unprocessed. Ethically Sourced. Kosher Certified.
Ingredient Benefits
Also called Pink Himalayan Salt, this salt comes from dry remnants of the original primal sea, mined 5000 feet below the surface near the Himalayas. It is naturally rich and macro and trace minerals and helps encourage salivation, keeping the mouth moist while remineralizing teeth.
ESSENTIAL OILS OF PEPPERMINT, CINNAMON, CLOVE, ANISE, AND TEA TREE
Quality Standards
Steam distilled. Hexane-free. Made in the USA. GFSI and cGMP certified.
Ingredient Benefits
These oils work together to reduce plaque, freshen breath, reduce inflammation and fight cavities, bad bacteria, and viruses.
Learn more about our natural ingredients and their quality standards.
Specs
2 month supply

1.9 oz / 40 grams

Made in USA

Amber glass bottle, metal lid

Compostable cellulose pouches refills (sold separately).
We searched high and low for an all natural, toxin-free, remineralizing toothpaste for our family but weren't satisfied with what we found. Even the "natural" remineralizing toothpastes contained cheap fillers, sweeteners, and ingredients that aren't beneficial to oral health. Out of frustration, we dove deep into understanding what makes a healthy mouth and strong teeth and started creating our own formulation. We enlisted the help of Dr. Steve Koral (a true pioneer and leader of holistic dentistry and graduate of Harvard Dental School, summa cum laude) and other holistic industry experts to help us refine our formulation and make our remineralizing toothpaste truly powerful.
It took several years but it was worth it. Our remineralizing toothpaste powder delivers on everything we feel is truly important: 100% natural, nourishing, healing, effective at fighting bad bacteria and cleaning teeth, completely safe and free of any of the junk found in tpyical natural toothpastes. For us it has to be eco-friendly, so we elminated plastic tubes and water moving to powder form delivered in glass jars with metal lids and compostable refills. Akamai Mineral Toothpowder was born.
Once you try our remineralizing toothpaste powder you won't go back to the sweet, chalky traditional toothpastes laden with fillers (gums, glycerin), synthetic chemicals (fluoride, triclosan, sorbate, propylene glycol, SLS, artificial colors and "flavors") artificial sugar (saccharin) or sugar alcohols (xylitol, sorbitol). Or the chalky sweet powders that do nothing other than clean and polish your teeth. Even "natural" brands often use synthetics, sweeteners and cheap fillers - check your labels!
Wet toothbrush.

Shake off excess water.

Dip the top half of your toothbrush in the powder (you don't need much).

Brush gently and mindfully (we like the Bass Method).
Brushing your teeth is a great time to slow down. If you normally rush, try brushing a bit slower and intentionally focusing on areas that might need special attention. Great for your oral health, easy on your bathroom since it also cuts down on toothpaste splatter. Try our

bamboo toothbrush

.

The longer you leave our remineralizing toothpowder in your mouth, the more nutrients will be absorbed. Instead of rinsing, add water to your mouth and swish it around for a while before spitting. No need to rinse.

Recommended and safe for sensitive teeth.

Have bad breath? Cure it with our

Tongue Cleaner

.

Looking to optimize your oral care routine? Per the advice of Dr. Steven Koral (DMD Harvard) and the team at

Boulder Holistic Dentistry: take Fulvic Mineral Complex

(to feed your teeth and gums from the inside out). This has been a game changer for us and thousands more.

Prefer a paste? Add some of our Oil Pulling Mouthwash, a little at a time, to form a paste to your desired consistency - adding oil is better than water, which will dry out faster in a jar. OR, you can mix in colloidal silver for extra bad bacteria fighting power (or try both).
Q: How abrasive is your toothpowder?
A: The RDA for our toothpowder is around 100. Ideally formulated to remove stains while protecting and preserving tooth enamel.
Q: Is it safe to dip my toothbrush in the powder?
A: Our Mineral Toothpaste Powder (aka Mineral Toothpowder) should not become contaminated, even when sharing. Every ingredient is naturally antibacterial - in fact, our Calcium Montmorillonite Clay is antibacterial, antimicrobial and antiviral. In addition, the high PH (between 9 and 10) is another factor in limiting any type of contamination (viruses and bad bacteria typically can't thrive in a waterless, high PH environment).
Q: Why should I avoid common ingredients like glycerin, foaming agents, guar gum, natural sweeteners and fluoride, common in natural toothpastes?
The other big issue is that most of the natural and commercial brands of toothpaste or toothpowder do not contain natural ingredients to fight bad bacteria and/or help remineralize teeth, which is the whole point of brushing your teeth and effective oral care.
Q: Why did you get rid of the Toothpaste?
A: While toothpaste is pretty convenient, from an environmental standpoint, it's a bit of a disaster — with an estimated 1 billion tubes tossed annually. Plus, one of our goals is to sell products that are concentrated — eliminating fillers (even water) whenever we can.
To continue making a paste, we would have had to compromise the purity of our ingredient deck by adding "industry accepted" antibacterials/preservatives — a line we will not cross.
We will not bend when it comes to adding any suspect ingredients into our products — this includes things like naturally derived/"supposedly benign" preservatives. Taking the water out of the paste removes these concerns since, without it, we remove the possibility of unwanted bacterial growth.
Improving our health, while improving the health of our planet is one of our core values and we believe they co-create each other.
What makes this product sustainable?
Reusable/refillable glass jar.

Metal lid.

Refills ship in backyard compostable cellulose pouch.
Say goodbye to plastic. Say hello to sustainability.
Do you live in California? Please read the statement below. While we love the idea of Prop 65, we are not fans of how the law was written - when it comes to natural substances, it promotes ignorance vs. knowledge.
As required by the State of California, so that we can legally sell this product to residents of that state, we must put the following language on our site: California Proposition 65 WARNING: This product contains a chemical known to the State of California to cause cancer, birth defects or other reproductive harm.
This is because one of our ingredients, Bentonite Clay, can have low levels of heavy metals in it. Sounds scary, right? However, the naturally occurring (organic) heavy metals in clay are molecularly bound to clay particles – meaning they are not bioavailable, and can't be absorbed.
Clay is powerful stuff. It's positively charged ions bind to heavy metals so that they are contained and expelled rather than absorbed by our bodies. In fact, one of bentonite clay's therapeutic uses is to consume orally to remove heavy metals from your body – a process called "chelating".
Prop 65 is a law with good intentions but with major flaws. For example, Prop 65 limits for lead are so low, almost all plant foods (eg. green beans, spinach, avocados, etc.) contain amounts higher than allowed by this law, but they do NOT carry the warning.
Furthermore, eating the USDA recommended 3 – 5 servings of vegetables could expose you to 10X the maximum allowed by Prop 65. (In fact, 1 serving of our toothpaste has less lead it in than 1 serving of many plant foods.)
In addition, Prop 65 does a poor job of clearly exempting items like clay where heavy metals are in an organic, bound, non-bioavailable form -- and many are pushing for reforms to Prop 65.
So, remember these 2 important points: 1) Heavy metals in bentonite clay are not bioavailable and cannot be absorbed, 2) bentonite clay helps remove heavy metals from your body.
We believe our toothpaste is 100% safe for ourselves, our family and you.
Dental Professionals
"Akamai has considered every component of an ideal toothpaste: the pH, abrasiveness, natural antimicrobials, and the ideal ratio of trace minerals and essential oils to maximize absorption and promote a healthy mouth. It is a fantastic product that I would recommend to any of my patients."
— Dr. Andrea Mustian, DMD Harvard School of Dental Medicine
"As a registered dental hygienist, this is my favorite toothpaste. They have packed so many good ingredients into this paste; liposomal Co Q10, trace minerals, a healthy balance of essentials oils in a detoxifying clay base. It leaves my mouth feeling clean & fresh. It's Akamai or nothing at all for me!"
— Shannon Gleichmann RDH, BS
Healthcare Professionals
"Thank you, Akamai for creating a toothpaste that is genuinely good for us. Love the product and the thoughtfulness that went into its formulation."
— Will Vanderveer, MD
Press
"If you're willing to adjust your sense of what toothpaste should taste and feel like, then this natural toothpaste will offer actual health benefits, i.e. remineralization, rather than the mostly cosmetic benefits of conventional toothpaste." — Treehugger
Why we don't use Hydroxyapatite
Most "natural" toothpastes use a synthetic nanoparticle form called NHap. And nanoparticles have never been proven safe in long term studies.

The natural form of hydroxyapatite is mostly calcium and phosphorus and is highly processed so less bioavailable (absorbable by the body).

Our toothpowder already has an abundance of bioavailable ingredients including macro & trace minerals to assist in remineralization.

With a healthy diet, proper nutrients & oral care routine, teeth will remineralize naturally.

We only use 100% natural, nutrient-dense ingredients. Nanoparticles, synthetic and naturally derived ingredients are not natural or needed for the body to self heal — in fact they may cause harm.
Want to learn more? See our blog post Hydroxyapatite for Remineralizing Teeth - Is it Safe?
Does your brand check all the boxes?
WHAT MATTERS
AKAMAI
Most "Natural" Brands

100% natural ingredients ONLY

No cheap fillers

(eg water, thickeners, gums)

Minimally processed, nutrient dense ingredients ONLY

Leverages transdermal effect to improve health

No fragrances, sweeteners or flavorings

No synthetic, naturally derived or toxic chemicals

Vegan, cruelty, gluten & petrochemical free

Blows past EWG Certified Standards

Multipurpose products

(e.g 3-1 Bar, Skin Fuel)

Simplified, health focused routines

Sustainable packaging

(eg. glass, refillable system, compostable)

Fair pricing

(high quality and reasonable prices. Direct to consumer / no middle man)

No greenwashing or healthwashing

Won't sell you things you don't need

Certified B Corporation

(we use business as a force for good)

1% For the Planet Member (donate 1% of sales to environmental causes)

100% Satisfaction Guarantee
100% Satisfaction Guarantee
We stand behind everything we make — investing an enormous amount of time and energy in developing them. If for any reason you are not happy with an item you purchased, you may request a refund or store credit.
Learn more here
100% Satisfaction Guarantee
We stand behind everything we make — investing an enormous amount of time and energy in developing them. If for any reason you are not happy with an item you purchased, you may request a refund or store credit.

100% Satisfaction Guarantee
We stand behind everything we make — investing an enormous amount of time and energy in developing them. If for any reason you are not happy with an item you purchased, you may request a refund or store credit.
Rooted In the best thinking and minds in oral and body health.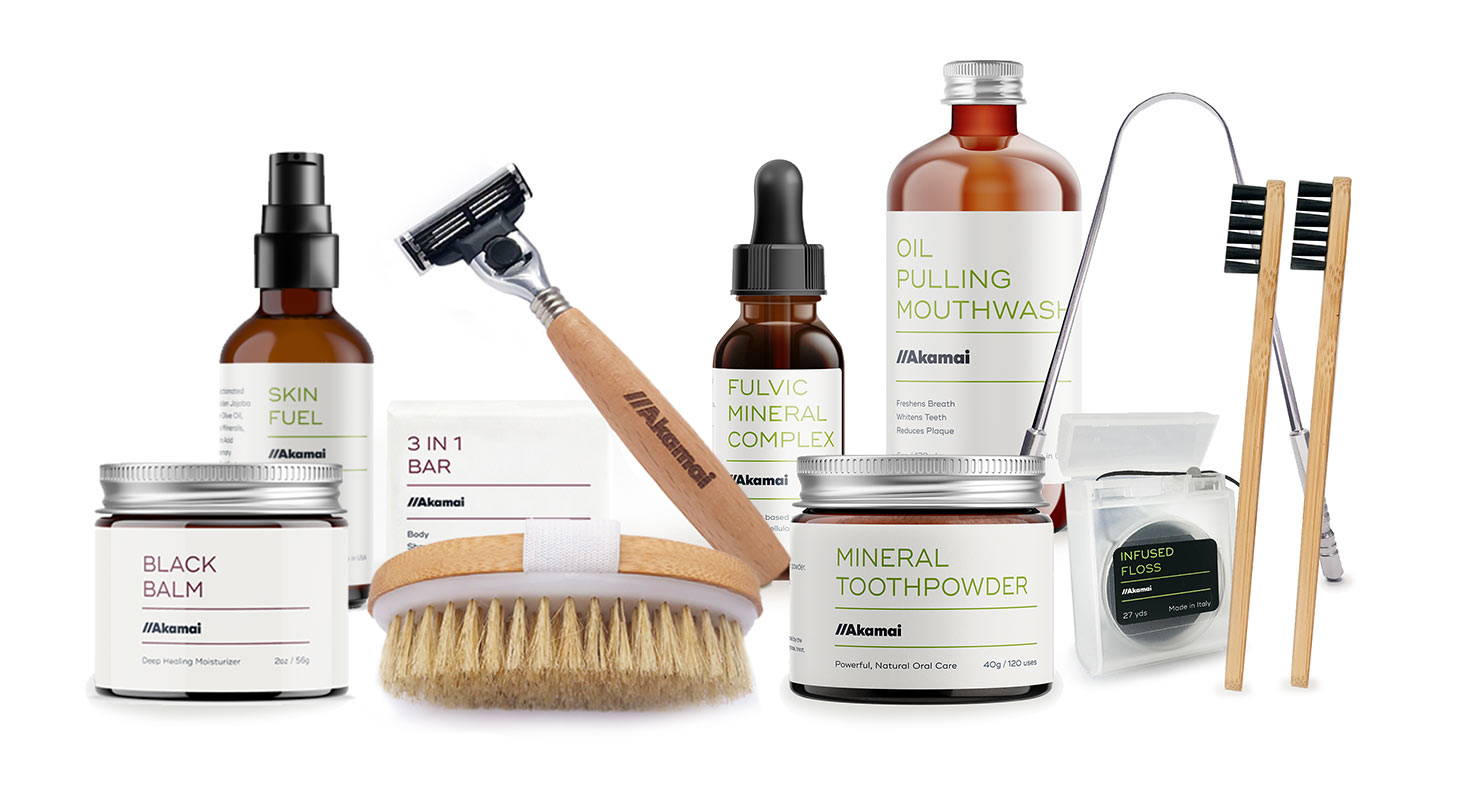 Ditch the fluoride !!
I love my mineral tooth powder it's easy to use and once you get used the texture it's easy to see the difference my teeth shine! I also use the stainless steel tongue scrapper which I love and the bamboo toothbrush!!! 2-3 times a week I also use the Oil pulling Mouthwash & WOW what a difference in my overall mouth health!!!!
Outstanding
These refills for our mineral toothpowder is an excellent way to reuse and recycle our glass jar.
Akamai Mineral Toothpowder
I really like using this Toothpowder. I was reluctant but curious. After reading the benefits posted on your website, I decided to give it a try. I'm sold on this product and plan to continue using this brand of toothpowder.
Clean
My teeth have never felt cleaner. My husband and I both started this about 2 weeks ago and we both are having a noticeable different on how clean our teeth feel and mouth feels. Like we are getting less plaque.
Akamai MINERAL TOOTHPOWDER
Excellent teeth care
I've used Akamai for several years, like it very much and will continue to do so —
as long as I can afford to buy it.
Akamai MINERAL TOOTHPOWDER REFILLS
Love the Refill option
I really appreciate the refill option! They are easy to store, so you can stock up (with or without a sale, it's still a nice deal).