$42.00
$47.00
saving
$5.00
translation missing: en.products.product.price_per_unit_html
No fluff | no inflated costs | no toxic chemicals | no hype
Cruelty-Free

Mission Driven

Unisex
$42.00
$47.00
saving
$5.00
translation missing: en.products.product.price_per_unit_html
Smart, simple shaving solution.
Our shaving kit includes everything you need for a smooth, close shave and healthy skin. No gimmicks, nasty chemicals or stuff you don't need.
"Checks all the boxes. These three products are such a beautiful combination - I use this kit for a clean, burn-free shave, but also - LOVE - that I can count 8+ other products I no longer need, as the Skin Fuel and Soap are multi-function at their core!" —CO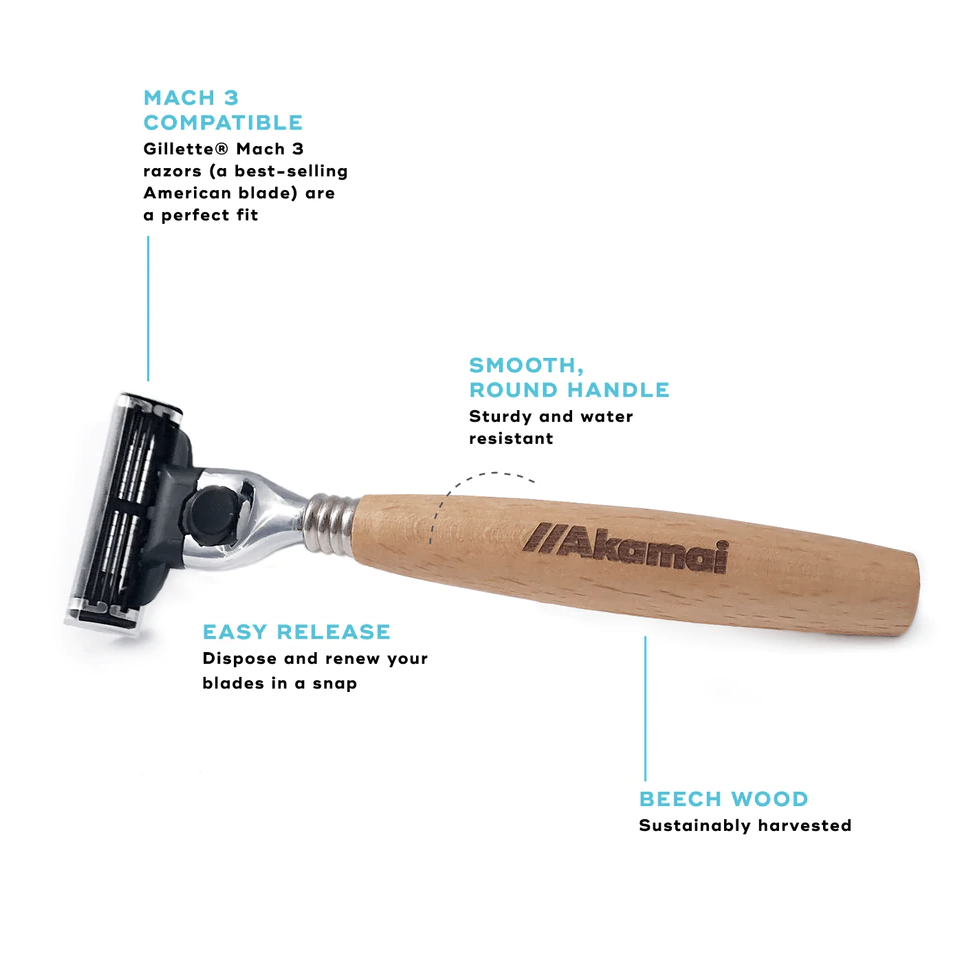 Our Shave Kit contains 1 of each of these products:
RAZOR HANDLE –

Our reusable, ergonomic handle made with sustainably harvested beechwood, fitted with the best blade available (Gillette Mach3™).

3-in-1 BAR

– Delivers a smooth, close shave. Loaded with 6 botanical oils, moisturizing glycerin, and nothing else. A true multitasker it can replace your body bar and shampoo too.

SKIN FUEL– Aftershave, beard oil, whole body moisturizer and hair conditioner too!

Nutrient-rich, light plant oil soaks in quickly with fulvic trace minerals, rich in polyphenols, to promotes healthy skin and hair.

TIP SHEET – How we extend the life of our razor blades 5x (or more)
Clean, vegan, sustainable, toxin free, 100% natural.
TSA compliant | Unisex
Ditch the chemicals and save $, while reducing waste and complexity.
Slash the money you spend on shaving by 75% or more with our smart system.
Say goodbye to cheap blades & bloated shave club services with our simplified shaving system. The reality is you don't need new blades every week, or even every month. While popular shave club services like Dollar Shave Club and Harry's may seem like a bargain, in reality, they cost you plenty over time.
The best blades made
Superior quality blades deliver an outstanding shave & stay sharper longer. Gillette Mach3™ blades are simply the best, and we can teach you how to extend the life by 5x or more. Wondering why a brand like ours would carry a mass product like this? See here
Designed to multitask
Our 3-in-1 Bar is a multi-tool for your bathroom routine. Shampoo, shower and shave – It's a smart way to reduce products, waste and fuss.

Skin Fuel – Carefully formulated as an all-purpose, all body, moisturizer for face, body, aftershave, hair conditioner, beard oil and more. Don't believe the hype (or waste your money) on an array of single-purpose products!
All of our formulated products are made in the USA using a combination of powerful natural ingredients and no nasty chemicals.
Our philosophy is simple – provide well-made, toxin-free, naturally effective products that support your body from the outside in and the inside out.
Wet your skin and hair with warm water then create smooth-sliding lather with the 3-in-1 Bar, in your hands or directly on your hair/skin. Shave with our ergonomic handle and high-quality blade. Then recondition and soothe skin with Skin Fuel while skin is still damp (for extra moisture). Close shave, healthy skin. Finally, take care of your equipment. Following these simple steps has been shown to dramatically extend a blades life.
If you take care of your razors and they should last a long time. The blade and handle should be allowed to air dry.

Follow these tips

for cleaning your razor blade and it can last 5x longer (or more). That means you can spend 5x less money and 5x less waste ends up in a landfill.
Try shaving after taking your shower or bath. Before shaving, allow hair to be softened by hot water. Hot water softens keratin in the hair and allows the razor to do a better job.
Take it slow. Shaving produces the most nicks and razor burn when we go fast. Be mindful. Slow down.
Read the ingredients on your shaving cream and aftershave. In all likelihood, they are loaded with suspect chemicals. Traditional aftershave products are either antiseptic (hence the burn) and/or loaded with an array of chemicals. Aftershaves often rely heavily on alcohol, which is drying and damaging to skin tissue and can disrupt the microbiome balance of the skin. Akamai Skin Fuel supports and nourishes the skin and its microbiome with natural, nutrient-rich ingredients that are also anti-fungal and anti-inflammatory.
Q: How can I extend the life of my razor blades (50-75 or more uses)?
Start with a high-quality blade, the best we found is Gillette Mach3... (Superior engineering and the highest quality stainless steel blades deliver an outstanding shave while staying sharper longer).
Rinse the blades thoroughly with hot water until clean.
Shake off excess water and tap the back of the cartridge on a towel. You can also blow into the back of the cartridge head to push out water.
Rub the front of the cartridge upward on towel 3-5x.
Glass bottle.
Concentrated.
Replaces multiple products.
Products marketed as "Beard oils", "Facial oils" "Serums" and "Elixirs" made with similar plant oils can cost 2-3x more — and without the powerful benefits of trace minerals & fulvic acid.
3 IN 1 BAR Sustainability
Uncoated paper wrapper made from 100% post consumer waste.
85% certified organic ingredients
Biodegradable
RAZOR HANDLE Sustainability
According to the New York Times, each year Americans throw away 2 billion disposable razors.

Our Razor Handle is made from FSC sustainably harvested beechwood which will last you a long time.
Does your brand check all the boxes?
WHAT MATTERS
AKAMAI
Most "Natural" Brands

100% natural ingredients ONLY

No cheap fillers

(eg water, thickeners, gums)

Minimally processed, nutrient dense ingredients ONLY

Leverages transdermal effect to improve health

No fragrances, sweeteners or flavorings

No synthetic, naturally derived or toxic chemicals

Vegan, cruelty, gluten & petrochemical free

Blows past EWG Certified Standards

Multipurpose products

(e.g 3-1 Bar, Skin Fuel)

Simplified, health focused routines

Sustainable packaging

(eg. glass, refillable system, compostable)

Fair pricing

(high quality and reasonable prices. Direct to consumer / no middle man)

No greenwashing or healthwashing

Won't sell you things you don't need

Certified B Corporation

(we use business as a force for good)

1% For the Planet Member (donate 1% of sales to environmental causes)

100% Satisfaction Guarantee
100% Satisfaction Guarantee
We stand behind everything we make — investing an enormous amount of time and energy in developing them. If for any reason you are not happy with an item you purchased, you may request a refund or store credit.


100% Satisfaction Guarantee
We stand behind everything we make — investing an enormous amount of time and energy in developing them. If for any reason you are not happy with an item you purchased, you may request a refund or store credit.
Rooted In the best thinking and minds in oral and body health.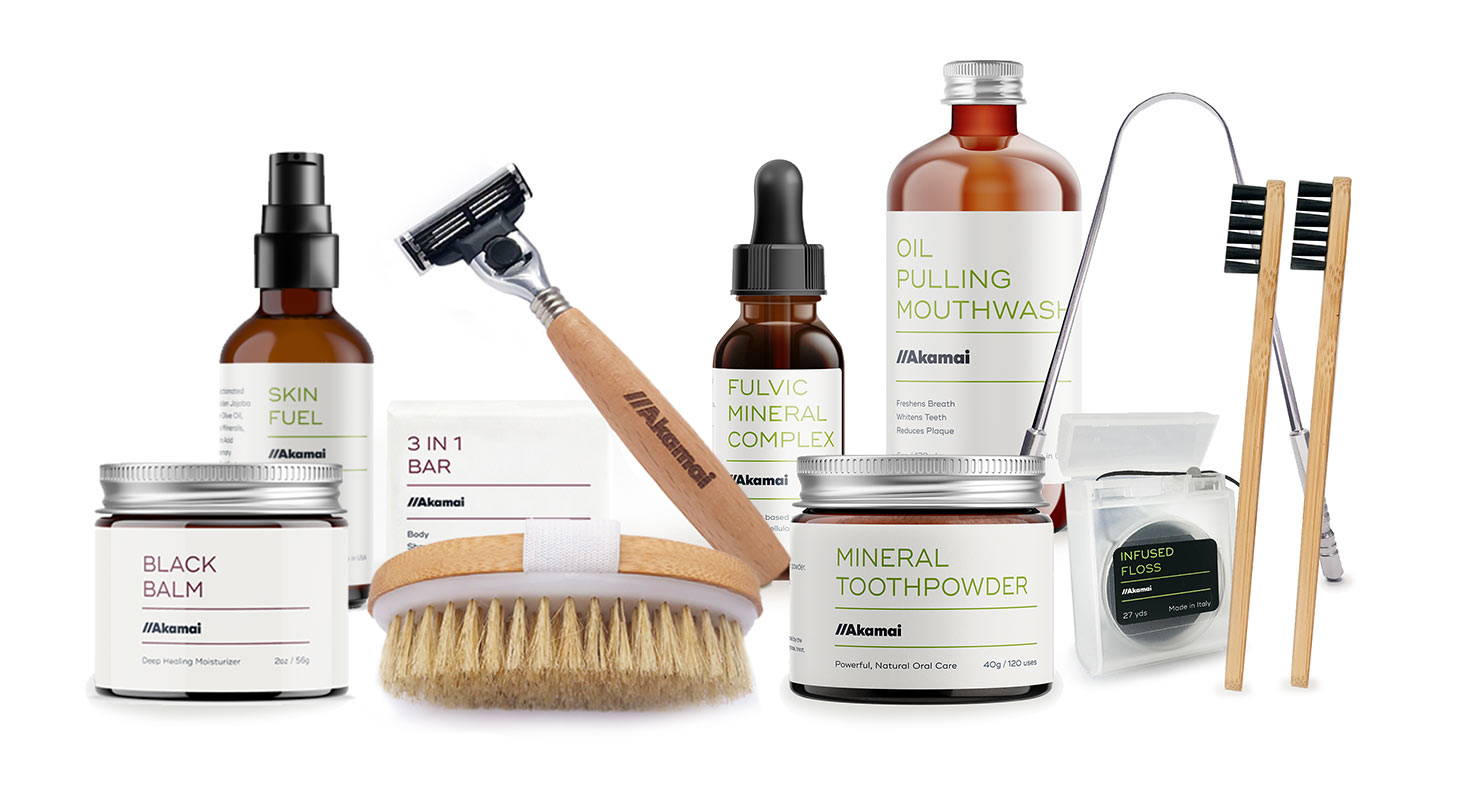 Great!
Love everything I have bought: toothpaste powder, oil pulling mouthwash, black balm, fulvic mineral complex and the 3 in 1 bar.
Your soap is a real quality product and it doesn't dry your skin.
Love this soap
This is the only bath soap we use in our house now.
Akamai SKIN FUEL
I love it! This really soothes my skin after I shave. This is the second time I purchased this.
Never knew I'd love a bar of soap!
The 3-in-1 bar is perfect in every way. Including that it doesn't melt, is plain white and an ideal size and shape. Great design and function. You nailed it, Akamai!
Love the glow
Keeps my skin soft all day and it smells so good! I love it!
Great!
I love that soap, it's very moisturizing! And I never thought I'd use soap on my hair - I use it to take off the old hair spray and mousse so that my shampoo and conditioner can do it's thing!
Skin Fuel! Awesome!!
Love it! Best moisturizer.