translation missing: en.products.product.price_per_unit_html
No fluff | no inflated costs | no toxic chemicals | no hype
Concentrated

Cruelty-Free

Made in USA

Mission Driven

Multipurpose

Non GMO

Only Natural

Unisex

Vegan
translation missing: en.products.product.price_per_unit_html
Feed your skin & hair daily.
Our 100% natural, multipurpose, powerhouse promotes healthy skin & hair as it moisturizes, conditions & soothes. Made with 6 nutrient rich natural ingredients —and nothing else. Helps you get rid of products you really don't need.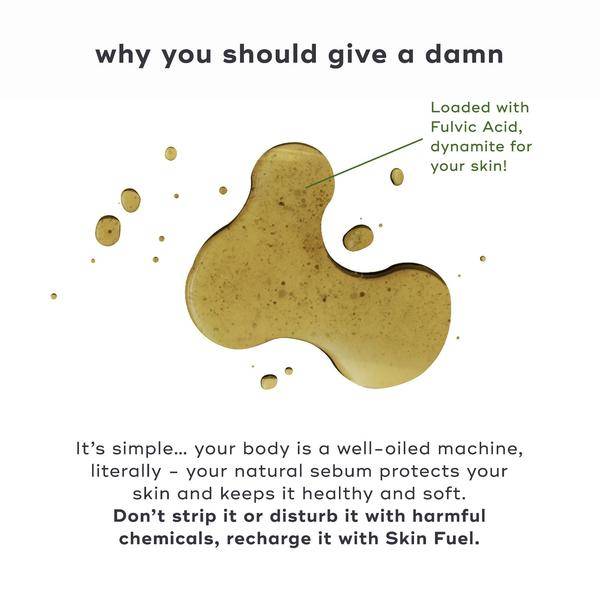 Supercharged with Fulvic Mineral Complex,

our plant based Fulvic Acid, rich in trace minerals, amino acids, polyphenols and antioxidants, to feed your cells and help heal your skin.

Replaces 9+ products – light face & body moisturizer, aftershave, hair conditioner, beard oil, oil cleansers and more.
Concentrated, light & non-greasy – absorbs quickly, won't clog pores, closely matches skin's oil. A little goes a long way.
Moisturizes & nourishes – loaded with naturally occurring antioxidants, vitamins, minerals and fatty acids, helps support skin's microbiome.
Pure, natural ingredients

and nothing else

. Every ingredient supports skin, body and hair health.
No fillers, emulsifiers, fragrances, preservatives, or nasty chemicals. Nut-free.
99% Certified Organic ingredients.
High quality, amber glass bottle

. Eliminates plastic, while naturally preserving oil.
Available in 2 oz & 4 oz sizes | Made in USA
INGREDIENTS / STANDARDS / SPECS
"Your skin is your largest organ. What you put on it can be absorbed into the bloodstream. Fuel it with vitamins and minerals, not toxic chemicals."
— Co-founder Vincent Cobb
We set out to create one all-purpose natural moisturizer that would be great for skin and hair.
A major problem with personal care brands (and the entire industry) is that they promote the use of a wide array of product we just don't need and complex routines that require multiple products (think — moisturizers, serums, body lotions, hair conditioner, pre-shave, post-shave, beard oil, etc) Plus they are typically loaded with mystery ingredients and potentially harmful chemicals (even the "natural" ones).
And what personal care brands charge often has little to do with the actual quality or efficacy of the ingredients inside. It's more the marketing and branding behind them. Being skeptical and aware, we don't buy into the hype.
We chose to develop a light, fast absorbing, highly nourishing moisturizer that closely matched our body's own sebum. One that feeds and nourishes both skin and hair and is capable of being used in many ways. Of course no water, cheap fillers or suspects chemicals of any kind,
After hundreds or hours of research, testing and experimentation we arrived at our unique combination of cold pressed, unfiltered bioactive rich plant oils. And supercharged it with a high concentration of pure, potent trace minerals & fulvic acid to further nourish skin cells as it gets absorbed transdermally. And added a dash of rosemary to help preserve.

The oils we use are unrefined, cold pressed and hexane-free and loaded with bioactive compounds to support healthy skin and hair.
They include essential fatty acids, Vitamins A, C, B Complex, E, Iodine Selenium, and Zinc. They have anti-fungal and anti-inflammatory properties and are known to attack skin pathogens, while supporting the skin's microbiome & overall body ecology. Ingredients also help protect skin from free radical damage.
Important: Always shake well before using to distribute the Trace Minerals & Fulvic Acid concentrate.
Daily post-shower body moisturizer — while feeding your skin & supporting your microbiome.
After shower apply while skin is still damp to help seal in additional moisture. Use 1-2 pumps and apply like you would any lotion or oil. Skin Fuel is a concentrate (unlike lotions which are 80-90% water) so a little goes a long way.
Lymphatic support
When applying, you can use this time to stimulate your vascular/lymphatic system — important, but frequently forgotten.
The idea is to apply pressure with the hands and gently squeezing and drawing — in direct towards the heart.
Here's an example:
Squirt 1 to 2 pumps of Skin Fuel into hands.

Using right hand grip left wrist.

Pull hand up the arm towards the shoulder applying pressure.

At top of arm, release pressure returning to wrist.

Do the same for other parts of the body, repeating a few times in each area.
Aftershave
Apply after shaving. Soothes skin, prevents razor burn and reconditions skin.
Hair Oil & Conditioner
Apply 1 pump to hands and smooth on damp hair to condition. Can also be used on dry hair to style and tame frizz.
Beard Oil
Apply after showering or washing your face. Helps moisturize skin underneath while conditioning, and taming beard hair.
Scalp Treatment
Massage into scalp to stimulate circulation, aid hair growth, control dandruff and unclog pores.
Salve
Dab on minor scrapes to protect and promote healing.
Facial Cleanser
A gentle and effective way to clean your face and maintain truly healthy skin. At night, apply 2 pumps to palms and massage on face. Put a warm washcloth over face for several seconds and wipe off. Oil cleansing leaves skin far more nourished and moisturized than traditional soap or detergent based facial cleansers.

Shaving Oil
If you shave your legs in the in the shower, Skin Fuel works much better than soap since it doesn't wash away and leaves them silky smooth and chemical free
Unlike lotions that are mostly water, Skin Fuel is concentrated so a little goes a long way. To help spread over a larger body area – try wetting hands first or applying to damp skin after showering.
As always: no synthetic or natural derived chemicals, cheap fillers, dyes, or fragrances. Color and scents are a byproduct of the ingredients we use. All products contain only pure, minimally processed, natural ingredients and nothing else.
Ingredients / Standards
Fractionated Coconut Oil (hexane free)*, Golden Jojoba Oil (cold pressed, unrefined)*, Extra Virgin Olive Oil (cold processed and unrefined)*, Argan Oil*, Fulvic Mineral Complex, Rosemary Essential Oil (therapeutic grade). (*Certified Organic 99%)
COCONUT OIL
Quality standards
Hexane-free. Refined. Extra Virgin. Cold pressed. Certified Fair Trade. Certified Organic by Quality Assurance International
Ingredient Benefits
Rich in antioxidants, vitamins A, C, and E and a unique combination of fatty acids. Penetrates, moisturizes and supports skin in a way that few other oils can. MCT oil quickly sinks in without clogging pores or oily residue.
JOJOBA GOLDEN OIL
Quality standards
Hexane-free. Unrefined. Cold pressed. Certified Organic by Quality Assurance International
Ingredient Benefits
Easily absorbed by skin giving instant and long lasting hydration and moisture. Rich in vitamins E and B complex, along with the essential mineral Zinc – Golden Jojoba is a healthy, gentle and powerful oil. It hydrates hair and smooths the hair shaft, adding elasticity, softness and shine.
OLIVE OIL
Quality standards
Hexane-free. Unrefined. Extra Virgin. Cold pressed. Certified Organic by Quality Assurance International
Ingredient Benefits
Naturally rich in vitamins K, A and E, plant sterols and phenolic compounds, it fights free radical damage and soothes skin. Moisturizes, heals and protects both skin and hair.
ARGAN OIL
Quality standards
Hexane-free. Unrefined. Cold pressed. Certified Organic by Quality Assurance International
Ingredient Benefits
Provides deep, nourishing moisture and natural protection from environmental damage for scalp, hair and skin. Rich in omega 6, vitamin A and E. Helps regulate sebum and skin PH.
Great for all skin types. Works well for hair and beards as a leave-in conditioner taming frizz and repairing split ends without a greasy feel.
FULVIC MINERAL COMPLEX
Quality standards
Chemical free / cold water extraction. Independent 3rd party laboratory testing for strength, potency, composition and integrity. cGMP certified, FSMA & HACCP FDA Compliant. Mined from pure, USA clay deposits of ancient plant and marine material.
Ingredient Benefits
Our plant-based Fulvic Acid rich in trace minerals, polyphenols, amino acids and antioxidants. Helps, heal, repair and regenerate skin. Delivers key nutrients to your cells and body through your skin.
ROSEMARY
Quality standards
Steam distilled. Hexane-free. Made in the USA. GFSI and cGMP certified. Certified Organic by Quality Assurance International. From Spain.
Ingredient Benefits
Tones and firms skin, anti-inflammatory, anti-bacterial, helps protect from free radical damage, and promotes circulation. Light crisp scent.
Learn more about our natural ingredients and their quality standards.
Specs
2 oz glass bottle

Self locking, splash proof pump

Each bottle contains 286 pumps – our 60 day supply gives you approximately 4-5 pumps per day.

Travel & camping friendly.

100% biodegradable ingredients.

TSA compliant, easily fit inside a carry on.
Q: Why is my skin fuel brown?
A: You can see the extra fulvic acid (Fulvic Mineral Complex — our proprietary fulvic acid concentrate - the same as the supplement we sell). , rich in polyphenols and micronutrients.
The Fulvic Mineral Complex in Skin Fuel provides it with trace minerals, macro minerals, organic acids, antioxidants, polyphenols, electrolytes, amino acids, naturally occurring vitamins and other micronutrients.
Remember to shake it well to distribute all of the fulvic acid goodness!
What makes this product sustainable?
Glass bottle.

Concentrated.

Replaces multiple products.

Products marketed as "Beard oils", "Facial oils" "Serums" and "Elixirs" made with similar plant oils can cost 2-3x more — and without the powerful benefits of trace minerals & fulvic acid.
99% certified organic ingredients
biodegradable
Beard oils

Face lotions & oils

Facial cleanser

Serums

Body lotions & oils

Hair conditioners

Aftershaves

Shaving oils

Scalp treatment
No nasty chemicals, such as parabens, PEGs, BHA, Mineral oils, fragrances.

No water or other cheap fillers.
Press
"Moisturizes skin and hair (and operates as aftershave too) forgoing the usual unpronounceable laundry list of chemicals." — Design Milk
"A treat to use. It has a soft and unusual rosemary scent, and is perfect to rub on my face after washing, treat my kid's winter-chapped cheeks, and smooth frizzy hair ends." — Katherine M., Treehugger
100% Satisfaction Guarantee
We stand behind everything we make — investing an enormous amount of time and energy in developing them. If for any reason you are not happy with an item you purchased, you may request a refund or store credit.


100% Satisfaction Guarantee
We stand behind everything we make — investing an enormous amount of time and energy in developing them. If for any reason you are not happy with an item you purchased, you may request a refund or store credit.
100% Satisfaction Guarantee
We stand behind everything we make — investing an enormous amount of time and energy in developing them. If for any reason you are not happy with an item you purchased, you may request a refund or store credit.
Learn more here
Rooted in the best thinking and minds in oral and body health.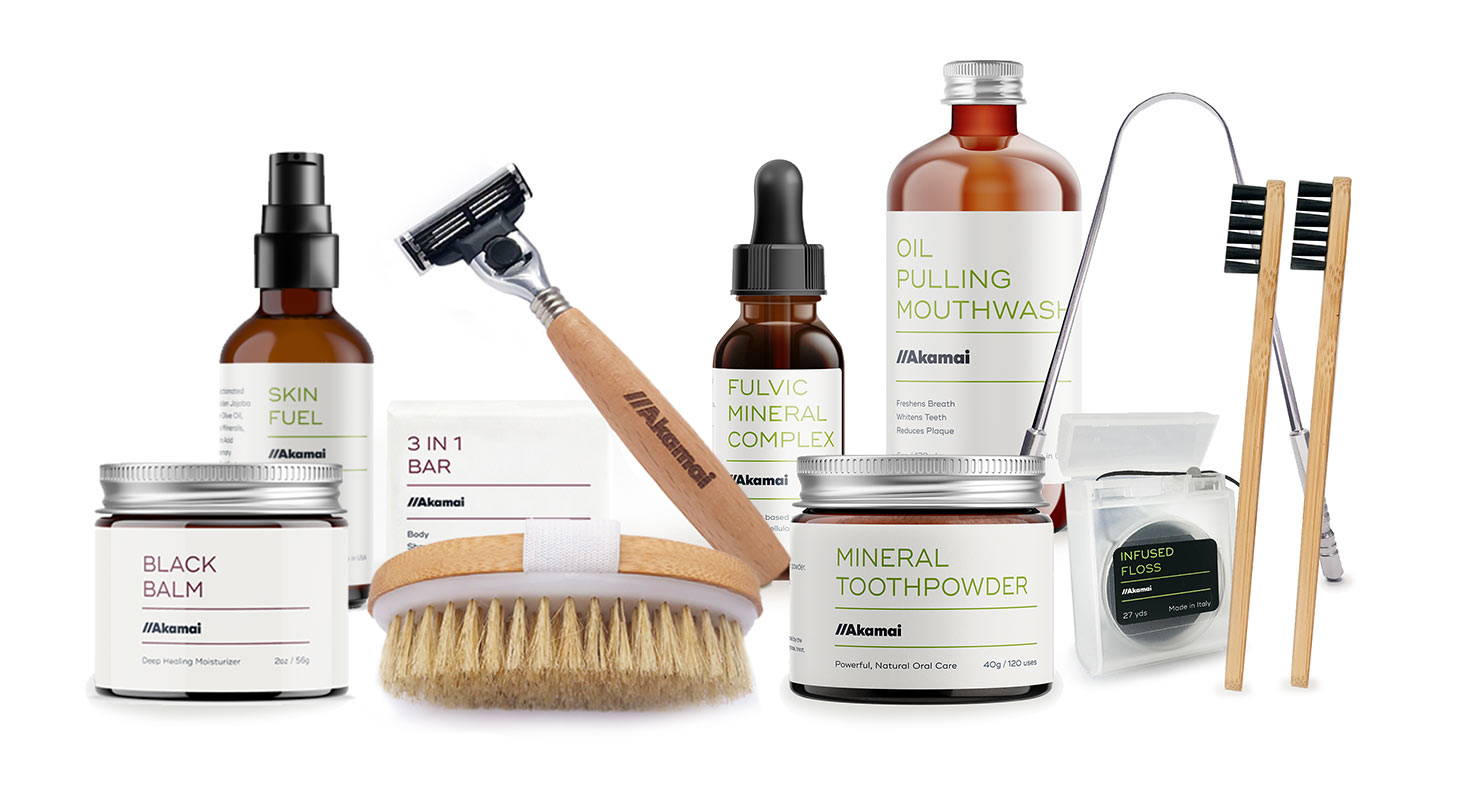 Best product for your skin...
Hands down this is the best product you can put on your skin. I have used this for 2 plus years and never use anything else at this point…Buy it you won't regret it it is worth the money...
Skin Fuel Moisturizer!
So far so good!! Love the way it makes my skin feel.
Love the skin fuel, hate the toothbrush
Love the skin fuel and scent. It's light and goes on easily. Would buy again. I reached out to the company about the toothbrush but unfortunately got no reply. Hence the 3 stars
Hi Teresa,
Thanks for your review. It looks like you might have missed our response re: toothbrush. This is what we sent you on May 9th. Perhaps it got stuck in a spam folder?
---
5/9 2:38pm
Hi Teresa!
Our toothbrush uses the design by Dr. Bass (a dentist) that utilizes fewer bristles in order to reach between teeth and under the gum line, which you can't do when the bristles are all packed tightly together. The handle is smaller so that you have more control, and precision, using a light touch (fingertips). Have you used the Bass method for brushing? You hold the brush at a 45degree angle and work gently into the top and bottom gumline using a wiggling method (vs back and forth).
Personally, using this brush along with the toothpowder solved my gum issues (deeper pockets).
If you really don't like the brush, I'd be happy to refund your money for it.
Glad you like the Skin Fuel!
Kindest regards.
Marni
Love it
I absolutely love this product. I use it as a moisturizer and makeup remover. It's amazing!
Perfect Aftershave
This stuff really revitalizes my skin after all the prep and post prep washing after shaving. I've generally haven't cared about this until my girlfriend noticed how dry my skin was. I can't shave without this!
Silky smooth skin and works great on my dry hair too!
I use it after showering and it smells amazing. Rub a very small amount on the ends of my hair, and it really gives it shine and controls the frizz.
Best ever!
I have been using Skin Fuel for many years now. I love the way it feels, the way it absorbs quickly into my skin and leaves my skin feeling soft. I especially love that there are no chemical or sketchy ingredients. Thank you Akamai!
Lovely moisturizer
I have been using the skin fuel for a month or so and it is great. I just use it on my face and it is the perfect moisturizer for me.
Great products. I feel safe using them.