Akamai MINERAL TOOTHPOWDER REFILLS
translation missing: en.products.product.price_per_unit_html
No fluff | no inflated costs | no toxic chemicals | no hype
Cruelty-Free

Made in USA

Mission Driven

Multipurpose

Non GMO

Only Natural

Scientifically Proven

Unisex

Vegan
Akamai MINERAL TOOTHPOWDER REFILLS
translation missing: en.products.product.price_per_unit_html
Our Refillable Compostable Toothpowder System™. Zero waste & plastic-free.
Get our nourishing, 100% natural Mineral Toothpowder delivered in earth-friendly, compostable packets. Simply add the refill powder to your original glass jar & compost the packet.
"

Fantastic!

Akamai Mineral Toothpowder makes my teeth feel incredibly clean. It was much easier to get used to than I thought it would be. I am never going back to toothpaste!"

— Korin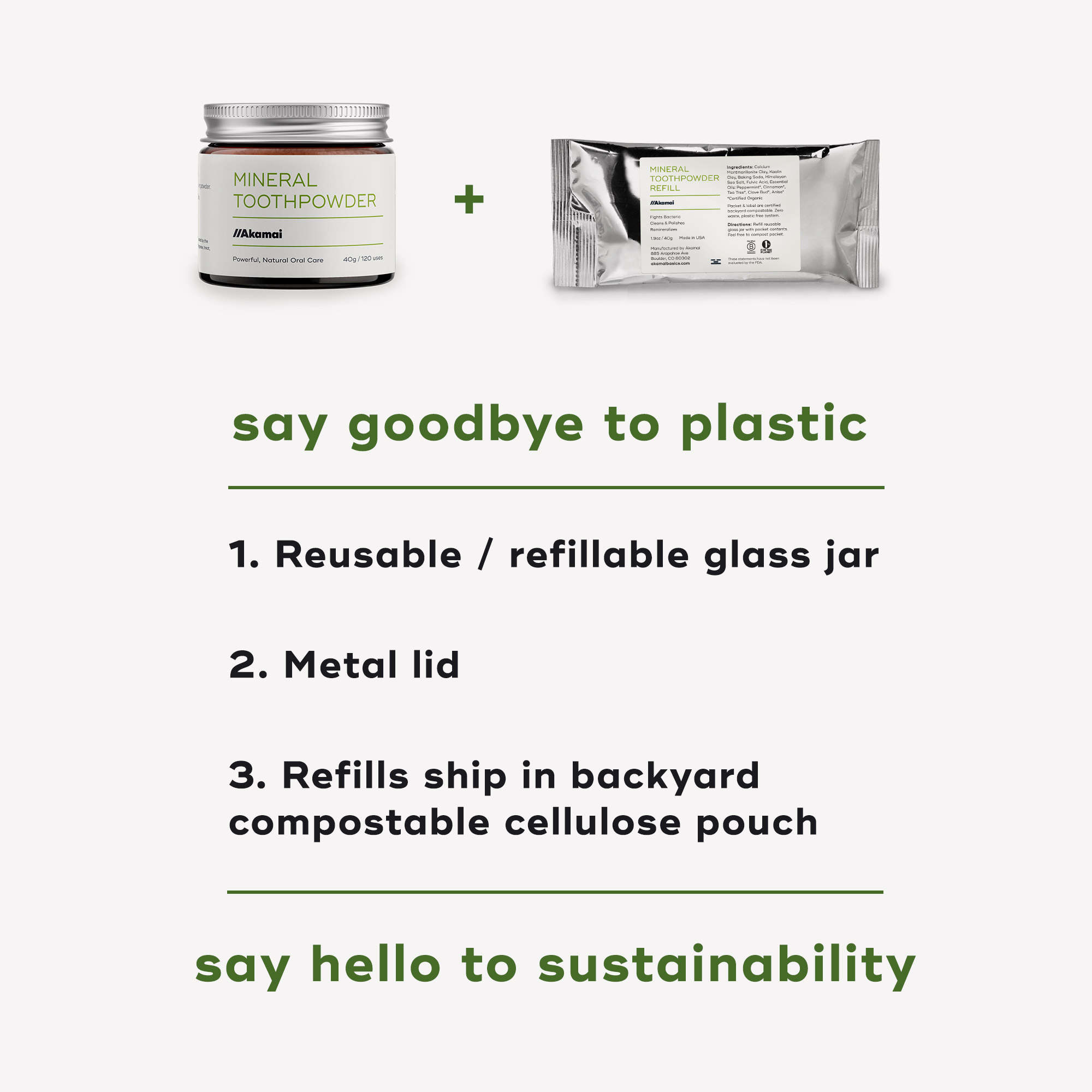 Refill packets work with our reusable glass jar

(

sold separately

) or any glass jar you already have.

Supercharged with nourishing "living" clays, over 72 bioavailable trace and macro minerals, and Fulvic Acid

to help support strong tooth remineralization & healthy gums.

100% food-grade & therapeutic ingredients. Minimally processed. Safe to swallow since its basically a food! V

egan & cruelty-free.

NO cheap fillers of any kind or artificial ingredients No

silica, glycerin, fluoride, nano particles or "naturally derived" ingredients either. No sweeteners.

Films & label are certified for home compost:

ASTM 6400 and EIN 13432.

Refill packs equal a 60 day supply for 1 person, brushing 2x a day.
Part of our Oral Care System endorsed Dr. Mark Hyman as a Mark's Picks.
1.9 oz / 40 grams | 2 month supply | Made in USA
INGREDIENTS / STANDARDS / SPECS
What you put in your mouth can pass directly into your bloodstream. Choose your oral care wisely.
Even "natural" toothpaste and toothpowder brands often use synthetics, sweeteners, and cheap fillers, so be a bit skeptical — check your labels and know every ingredient you are putting in your mouth! This would be a wise place to apply the precautionary principle.
We use the transmucosal effect for good.
Our Mineral Toothpowder was developed with input from holistic dentistry experts and massive independent research. We only use natural ingredients known to be beneficial to both oral health and general wellbeing— and our natural ingredients are minimally processed to retain maximum potency.
Once you try our toothpowder, you won't go back to the traditional pastes or the powders that focus on superficial qualities such as foaming, sweeteners, flavorings, etc. And are often laden with cheap fillers (gums, glycerin, low-grade clays), synthetic chemicals (fluoride, triclosan, sorbate, propylene glycol, SLS) artificial colors, "flavors" or sweeteners (saccharin, xylitol, sorbitol, etc.), or are overly harsh on your teeth eroding the enamel (charcoal).
Maintaining a balanced microbiome, eliminating bad bacteria and opportunistic organisms while enhancing the natural cleansing and rebuilding processes of the mouth is one of the most effective, yet inexpensive, steps you can take to support your overall health.
Refill
Tear open refill pack using top perforation.

Pour contents into the jar.

Feel free to compost the refill pack either via home composting or municipal compost services. Don't compost? Just put in the regular trash.
Note: If needed, before refilling is a time to rinse out and wipe clean your jar. Be sure to dry thoroughly before refilling.
Brush
Wet toothbrush.

Shake off excess water.

Dip the top half of your toothbrush in the powder (you don't need much).

Brush gently and mindfully (we like the Bass Method).
What is this packet made of?
The film used in our packets is made from renewable, earth-friendly, sustainably sourced wood pulp (aka cellulose). Both films & label used in the packet are certified ASTM 6400 and EIN 13432 for home compost.
The metallic color comes from a minute amount of metal-infused into the film to ensure ingredients stay fresh.
As always: no synthetic or natural derived chemicals, cheap fillers, dyes, or fragrances. Color and scents are a byproduct of the ingredients we use. All products contain only pure, minimally processed, natural ingredients and nothing else.
Ingredients / Standards
Calcium Montmorillonite Bentonite Clay (food grade, non-irradiated), Kaolin Clay (food grade, non-irradiated), Baking Soda (food grade, aluminum free), Himalayan Salt, Fulvic Acid / Trace Mineral Concentrate, Essential Oils of Peppermint*, Cinnamon*, Clove*, Tea Tree*, and Anise. (*Certified Organic)
CALCIUM BENTONITE CLAY & KAOLIN CLAY
Quality Standards
Edible/Therapeutic/Food grade. Certified GRAS. Filtered, unprocessed, and non-irradiated. Mined in USA.
Ingredient Benefits
Rich in bioavailable minerals, including calcium, magnesium, silica, and potassium, all beneficial to teeth and gums. Mildly abrasive to gently polish, clean, and whiten teeth. Binds with toxins and harmful bacteria removing them from your mouth. Macrominerals support the tooth remineralization process.
BAKING SODA
Quality Standards
Food grade, aluminum-free
Ingredient Benefits
Sodium bicarbonate is a gentle yet effective stain remover that also increases alkalinity (high PH) to help reduce demineralization.
FULVIC ACID/MINERAL COMPLEX (POWDER):
Quality Standards
Chemical free / cold water extraction. Independent 3rd party laboratory testing for strength, potency, composition, and integrity. cGMP certified, FSMA & HACCP FDA Compliant. Mined from pure, USA clay deposits of ancient plant and marine material.
Ingredient Benefits
Plant and marine-based Fulvic acid, rich in naturally occurring bioavailable trace minerals, macro minerals, amino acids, and vitamins; cell-ready absorption; 72 trace minerals are vital to a host of cellular functions and aid in tooth remineralization.
HIMALAYAN SEA SALT
Quality Standards
Food grade. Unprocessed. Ethically Sourced. Kosher Certified.
Ingredient Benefits
Also called Pink Himalayan Salt, this salt comes from dry remnants of the original primal sea, mined 5000 feet below the surface near the Himalayas. It is naturally rich and macro and trace minerals and helps encourage salivation, keeping the mouth moist while remineralizing teeth.
ESSENTIAL OILS OF PEPPERMINT, CINNAMON, CLOVE, ANISE, AND TEA TREE
Quality Standards
Steam distilled. Hexane-free. Made in the USA. GFSI and cGMP certified.
Ingredient Benefits
These oils work together to reduce plaque, freshen breath, reduce inflammation, and fight cavities, bad bacteria, and viruses.
Learn more about our natural ingredients and their quality standards.
Specs
2 month supply
1.9 oz / 40 grams
Made in USA
Q: Is the label compostable?
A: Yes. The films and labels of our refills are certified ASTM 6400 and EIN 13432 for home compost.
Q: How long does it take to break down in someone's compost (backyard)?

A: That depends on the conditions; i.e. temperature, humidity, other organic matter, and the actual effort put forth by the homeowner in working their compost. Both ASTM D6400 (commercial compost) and EIN 13432 (home compost) require the packaging to disintegrate to a certain extent and to a certain particle size within 84 days. Home composting requires disintegration in 120 days.
Q: What if I don't have a compost pile in the yard or compost service?
A: Dispose of it like you would any other biodegradable material. It'll break down over time and not leave any plastic residue as typical packaging does. Feel good you aren't adding more plastic into our environment!

What makes this product sustainable?
Refills ship in backyard compostable cellulose pouch.

Films & labels are certified for home compost: ASTM 6400 and EIN 13432.
Dental Professionals
"Akamai has considered every component of an ideal toothpaste: the pH, abrasiveness, natural antimicrobials, and the ideal ratio of trace minerals and essential oils to maximize absorption and promote a healthy mouth. It is a fantastic product that I would recommend to any of my patients."
— Dr. Andrea Mustian, DMD Harvard School of Dental Medicine
"As a registered dental hygienist, this is my favorite toothpaste. They have packed so many good ingredients into this paste; liposomal Co Q10, trace minerals, a healthy balance of essentials oils in a detoxifying clay base. It leaves my mouth feeling clean & fresh. It's Akamai or nothing at all for me!"
— Shannon Gleichmann RDH, BS
Healthcare Professionals
"Thank you, Akamai for creating a toothpaste that is genuinely good for us. Love the product and the thoughtfulness that went into its formulation."
— Will Vanderveer, MD
Press
"If you're willing to adjust your sense of what toothpaste should taste and feel like, then this natural toothpaste will offer actual health benefits, i.e. remineralization, rather than the mostly cosmetic benefits of conventional toothpaste." — Treehugger
Do you live in California? Please read the statement below. While we love the idea of Prop 65, we are not fans of how the law was written - when it comes to natural substances, it promotes ignorance vs. knowledge.
As required by the State of California, so that we can legally sell this product to residents of that state, we must put the following language on our site: California Proposition 65 WARNING: This product contains a chemical known to the State of California to cause cancer, birth defects or other reproductive harm.
This is because one of our ingredients, Bentonite Clay, can have low levels of heavy metals in it. Sounds scary, right? However, the naturally occurring (organic) heavy metals in clay are molecularly bound to clay particles – meaning they are not bioavailable, and can't be absorbed.
Clay is powerful stuff. Its positively charged ions bind to heavy metals so that they are contained and expelled rather than absorbed by our bodies. In fact, one of bentonite clay's therapeutic uses is to consume orally to remove heavy metals from your body – a process called "chelating".
Prop 65 is a law with good intentions but with major flaws. For example, Prop 65 limits for lead are so low, almost all plant foods (eg. green beans, spinach, avocados, etc.) contain amounts higher than allowed by this law, but they do NOT carry the warning.
Furthermore, eating the USDA recommended 3 – 5 servings of vegetables could expose you to 10X the maximum allowed by Prop 65. (In fact, 1 serving of our toothpaste has less lead it in than 1 serving of many plant foods).
In addition, Prop 65 does a poor job of clearly exempting items like clay where heavy metals are in an organic, bound, non-bioavailable form -- and many are pushing for reforms to Prop 65.
So, remember these 2 important points: 1) Heavy metals in bentonite clay are not bioavailable and cannot be absorbed, 2) bentonite clay helps remove heavy metals from your body.
We believe our toothpaste is 100% safe for ourselves, our family, and you.
Does your brand check all the boxes?
WHAT MATTERS
AKAMAI
Most "Natural" Brands

100% natural ingredients ONLY

No cheap fillers

(eg water, thickeners, gums)

Minimally processed, nutrient dense ingredients ONLY

Leverages transdermal effect to improve health

No fragrances, sweeteners or flavorings

No synthetic, naturally derived or toxic chemicals

Vegan, cruelty, gluten & petrochemical free

Blows past EWG Certified Standards

Multipurpose products

(e.g 3-1 Bar, Skin Fuel)

Simplified, health focused routines

Sustainable packaging

(eg. glass, refillable system, compostable)

Fair pricing

(high quality and reasonable prices. Direct to consumer / no middle man)

No greenwashing or healthwashing

Won't sell you things you don't need

Certified B Corporation

(we use business as a force for good)

1% For the Planet Member (donate 1% of sales to environmental causes)

100% Satisfaction Guarantee
100% Satisfaction Guarantee
We stand behind everything we make — investing an enormous amount of time and energy in developing them. If for any reason you are not happy with an item you purchased, you may request a refund or store credit.


100% Satisfaction Guarantee
We stand behind everything we make — investing an enormous amount of time and energy in developing them. If for any reason you are not happy with an item you purchased, you may request a refund or store credit.
100% Satisfaction Guarantee
We stand behind everything we make — investing an enormous amount of time and energy in developing them. If for any reason you are not happy with an item you purchased, you may request a refund or store credit.
Learn more here
Rooted In the best thinking and minds in oral and body health.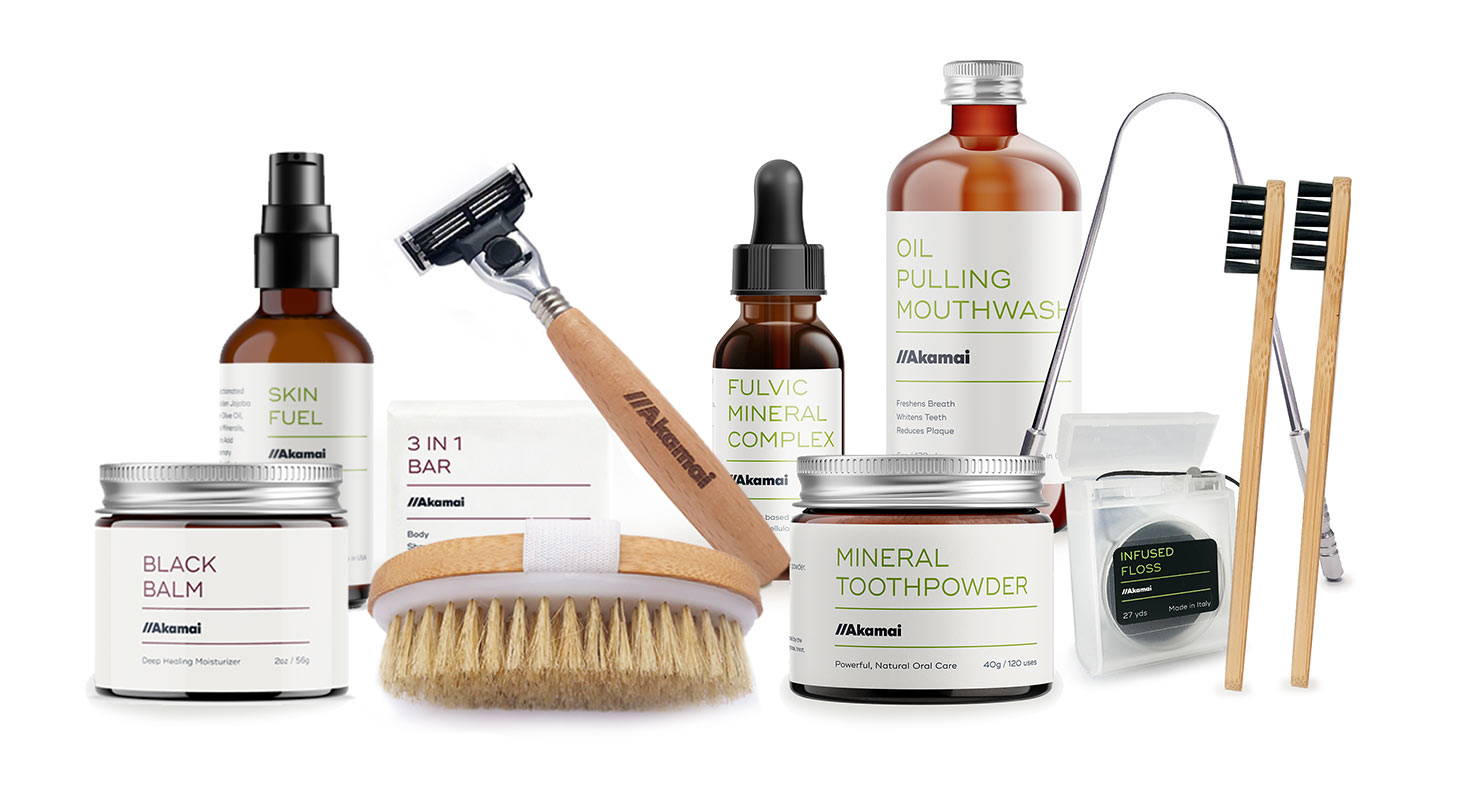 Excellent teeth care
I've used Akamai for several years, like it very much and will continue to do so —
as long as I can afford to buy it.
Akamai MINERAL TOOTHPOWDER REFILLS
Love the Refill option
I really appreciate the refill option! They are easy to store, so you can stock up (with or without a sale, it's still a nice deal).
Tooth powder
Good taste. Mouth felt clean. When I had a question the company was quick to respond and I really appreciated that. Haven't had a dentist appt yet to give a 5 star rating.
Akamai MINERAL TOOTHPOWDER REFILLS
Mineral tooth powder
It's a nice quality item: clean , refresh and not damage teeth
Amazing Life Saving
I have suffered with gum disease, receding gums and tooth pain and decay for years and truly thought I had reached the point I was going to lose all my teeth. In spite of the fact that I am fastidious about my oral health using several different tooth powders etc.
Then I discovered Akamai. Tooth pain; gone, Jaw pain; gone, Gum tissue pain; gone. My teeth and gums feel amazing. My teeth feel so much cleaner and I do not suffer from tooth pain any longer. I will be a life long user of this product and I will recommend it to everyone I know.
Absolutely LOVE this mineral powder!
Ever since I startled using this mineral powder, my teeth and gums have been so healthy. The occasional bleeding in my gums stopped, And my teeth feel so clean! My dentist actually asked me what i do at home to keep my teeth so healthy! My dental check ups have been so great since using this product. I have recommended it and gifted it to many friends and family!
My favorite tooth & mouth cleaner!
I have been using Akamai Mineral Toothpowder for a few years now, and it is my favorite product for brushing my teeth. I've tried other "healthy" toothpowders and pastes, but none compare to Akamai. My teeth always feel smooth and clean after brushing, and I don't get the burning pain of strong mint, or off-putting flavors of coconut oil or herbal ingredients. This is also the most effective tooth product that also eliminates candida in my mouth (an ongoing issue I have that's related to a chronic medical condition). My son also likes this toothpowder and says it's his favorite as well. In short, this stuff is awesome!