translation missing: en.products.product.price_per_unit_html
No fluff | no inflated costs | no toxic chemicals | no hype
Biodegradable

Certified Organic Ingredients

Cruelty-Free

Made in USA

Mission Driven

Multipurpose

Non-GMO

Unisex

Vegan
translation missing: en.products.product.price_per_unit_html
WASH, SHAVE, SHAMPOO - One bar does it all.
Gently cleans skin and hair while delivering a great shave. Loaded with 6 botanical oils, and moisturizing glycerin, carefully balanced to benefit both hair and skin. Natural with no harsh chemicals. Get clean in a healthier way.
"Outstanding.

Incredible to think that one small soap can accomplish so much. Indeed great things come in small packaging. Thanks for the clean ingredients in an environment that is so toxic." — Mart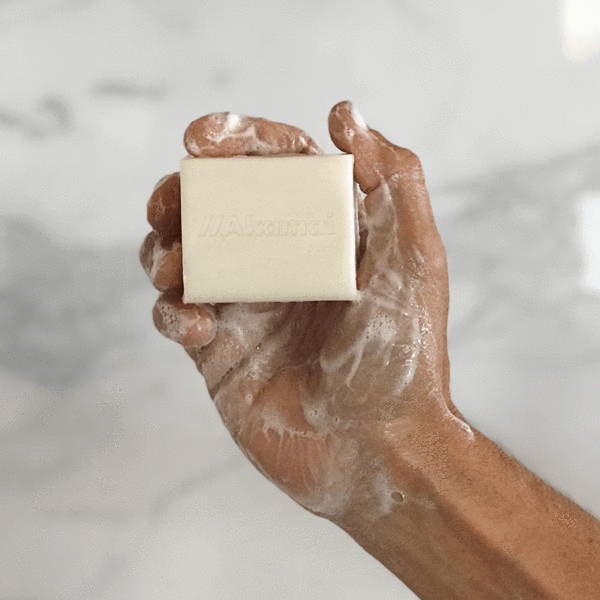 Super mild & non-drying

– ideal for all skin types, even the most sensitive.

Gently cleans hair without harsh detergents – shampoo in a concentrated form, giving you soft, shiny, hair and healthy scalp, with no chemical build-up or residue.
Delivers a smooth, close shave – thick, creamy lather and nourishing oils create slip while soothing skin. Follow up with Skin Fuel.
Made with 8 natural plant oils – No harmful chemicals, detergents, or fragrance.
Travel, outdoor & camping friendly. 100% biodegradable. Unscented.
85% certified organic ingredients. PLUS RSPO Segregated Palm Oil for increased sustainability.
3.5 oz | ~30 day supply | Made in USA
INGREDIENTS / STANDARDS / SPECS
Sure, anybody can make soap. But make it great for shampooing too? That's not easy.
We set out on a mission to create a bar of soap that was specifically formulated to be great for washing hair, body, and shaving using only the best possible natural ingredients.
Most soaps on the market use harsh detergents that can dry your hair and skin, or botanical oils, that once saponified, are very drying. For hair, you have to strike the right balance of being able to clean, but still be moisturizing, and not build up a residue or feel greasy.
High-quality soap making is an art so we sought out the best in the country and gave them our challenge.
We are big fans of coconut oil (for everything!), so we started there. We researched and tested many coconut-based formulas on the market, and even though they offered some great skin benefits, found them to be too drying. Palm gives a rich lather and pairs well with coconut to create a long-lasting, moisturizing bar that is high in glycerin (for skin conditioning) – this became our soap base.
In Jan 2019 we improved our 3 in 1 Bar further. Upgrading to 85% certified organic ingredients and moving to RSPO Segregated Palm Oil —our palm is now both certified organic and only comes from certified sustainable plantations. All part of our ongoing journey of continual improvement and increased sustainability. Learn more
We then took the extra step and expense of "superfatting" – adding the highest concentration of oils possible to our soap base in order to make it as rich, moisturizing, and conditioning as possible.
The oils had to be the absolute best for skin, shaving and hair, so we worked with our soap maker to choose highly effective, proven oils: Shea Butter, Olive Oil, Golden Jojoba Oil, Jamaican Black Castor Oil, Argan Oil. Akamai 3 in 1 Bar was born.
Body & Face Cleanser: Soap where you need it. The beneficial oils will leave skin conditioned, clean, and smooth, not tight or dry.
Shaving: Rub bar across area to shave, and use hands to create a lather. Rich oils help the razor glide across your skin for a clean, close, comfortable shave. Follow your shave with Akamai Skin Fuel to help soothe, moisturize, and heal
Shampoo: Rub bar across hair to create a lather. Massage your scalp and work through your hair. Rinse well. If you need hair conditioner, apply a pump of Akamai Skin Fuel to wet hair – you can rinse or leave in for extra conditioning.
Over-washing of the skin can remove good, useful bacteria and can dry your skin out.

We think it is wise to rinse more and only soap up when you really need it. Rinse more, soap less.

Transitioning from regular shampoo to our Akamai 3 in 1 Bar. If you've been using a shampoo free of detergents (SLS/SLES) then you'll have no problem using our all-natural soap right away with good results. However, if your shampoo (or soap) contains detergents, your scalp will continue its cycle of overproducing oil to offset the stripping effects. This can result in oilier hair for a short time. So keep in mind it might take a week or two for your scalp to adjust to this gentler approach.
Travel, Outdoor & Camping Friendly. Our multipurpose, natural soap can be used for all of your on the go washing needs, even your mess kit, and clothing. 100% biodegradable, earth-friendly ingredients.
One Akamai 3 in 1 Bar will likely last one person 30 days with "typical" use. (However, if you use our recommended method of washing where you "just hit the stinky parts" when showering — and wash hair once a week, expect the bar to last about 60 days).
As always: No synthetic or natural derived chemicals, cheap fillers, dyes, or fragrances. Color and scents are a byproduct of the ingredients we use. All products contain only pure, minimally processed, natural ingredients and nothing else.
Ingredients / Standards
Saponified RSPO Segregated Palm Oil*, Saponified Coconut Oil*, Water, Glycerin*, Shea Butter*, Extra Virgin Cold Pressed Olive Oil*, Jojoba Oil*, Sodium Citrate, Argan Oil, Jamaican Black Castor Oil, Natural Vitamin E. (*Certified Organic 85.5%)
SAPONIFIED RSPO SEGREGATED PALM OIL*
Quality Standards
Segregated" means the Palm Oil we use is both certified organic and only comes from certified sustainable sources. Read more about our commitment here »
Ingredient Benefits
Contains hard to find tocotrienols, (members of the vitamin E family) which are high-powered antioxidants. In soap, it is known for its ability to remove dirt and excess oils from hair and skin without stripping them.
SAPONIFIED COCONUT OIL*
Quality Standards
Hexane-free. Refined. Extra Virgin. Cold pressed. Certified Fair Trade.
Ingredient Benefits
Rich in antioxidants, vitamins A, C, and E and a unique combination of fatty acids. Penetrates, moisturizes and supports skin in a way that few other oils can.
GLYCERIN*
Quality Standards
ISO 9001 registered. cGMP certified.
Ingredient Benefits
Acts as a humectant, bringing moisture to the skin. Rich in naturally occurring bioavailable trace & macro minerals, amino acids, and vitamins; vital to a host of cellular functions and aids in tooth remineralization.
SHEA BUTTER*
Quality Standards
Unrefined. Raw. Certified Fair Trade
Ingredient Benefits
Works to control inflammation, soften and repair skin while conditioning hair and scalp. Rich in stearic, oleic acids and vitamins E and A.
GOLDEN JOJOBA OIL*
Quality Standards Hexane-free. Unrefined. Cold-pressed.
Ingredient Benefits Easily absorbed by skin giving instant and long-lasting hydration and moisture. Rich in vitamins E and B complex, along with the essential mineral Zinc – Golden Jojoba is a healthy, gentle and powerful oil. It hydrates hair and smooths the hair shaft, adding elasticity, softness and shine.
SODIUM CITRATE
Quality Standards
ISO 9001 registered. cGMP certified. OTCO certified.
Ingredient Benefits
Stabilizes and protects our natural soap oils from going rancid.
ARGAN OIL*
Quality Standards
Hexane-free. Unrefined. Cold-pressed.
Ingredient Benefits
Provides deep, nourishing moisture and natural protection from environmental damage for scalp, hair and skin. Rich in omega 6, vitamin A and E. Helps regulate sebum and skin PH.
JAMAICAN BLACK CASTOR OIL
Quality Standards
Hexane-free. Unrefined. Cold-pressed.
Ingredient Benefits
Rich in Omega 9 and antioxidants, it can promote healthy hair growth and nourish skin. Its antifungal and antibacterial properties can help clear up dandruff and skin infections.
NATURAL VITAMIN E
Quality Standards
Non-GMO. Extracted from sunflower oil. ISO 9001 registered. cGMP certified. OTCO certified.
Ingredient Benefits
Acts as a natural preservative for our natural soap. Antioxidants protect cells from the damage caused by free radicals.
Water
(*Certified Organic)
Learn more about our natural ingredients and their quality standards.
Specs
Q: How do I transition from my regular shampoo to Akamai's 3 in 1 bar?

A: Our gentle, truly natural soap bar was meticulously formulated to be a great shampoo. If you are transitioning from traditional shampoos & conditioners, there may be an adjustment period of 3 – 5 washes. (The length of your hair & how long you've been using regular shampoo is also a factor). Make sure you lather well and rinse thoroughly.
Since many shampoo brands recommend washing hair daily AND contain detergents that dry out your scalp, your scalp is forced to produce excess oil to offset the drying effects. Time to break the cycle! We (and most people outside of the personal care industry) recommend only washing hair 1-2 times per week.
Q: I have hard water. How can I reduce the effects of soap buildup especially in my hair?
A: Using a vinegar rinse (20% ACV to water) will help remove chemical and mineral build up from hard water and residues left behind from most shampoos and conditioners (particularly silicones).

Q: What is RSPO Palm Oil?
A: Segregated RSPO Palm Oil = Sustainably grown. The RSPO was founded in 2005 to create a system for certifying sustainably grown palm oil, and to create guidelines of membership for certified growers. These guidelines cover more than just environmental stewardship; members of the RSPO must report on and provide better working conditions, better wages, and foster local discussions and input on their impact on local and native land. These principles and criteria for members of the RSPO help ensure that the certified palm oil is produced under legal, socially and environmentally responsible management. The World Wildlife Fund has given the RSPO a thumbs up as a big step in the right direction for the production of palm oil in "providing assurance that valuable tropical forests have not been cleared, and social safeguards have been met during the oil's production" of Certified Sustainable Palm Oil. Roundtable on Sustainable Palm Oil (RSPO) certified sustainable palm oil is an ingredient found in our 3 in 1 Bar - our all natural soap made for washing, shaving and shampooing. Read more about our commitment to sustainably sourced palm oil here.
See our help section for more questions and answers...
What makes this product sustainable?
A multi-tool for your bathroom routine.
It's a smart way to reduce products, waste, and fuss.
Face wash

Body cleanser

Shampoo

Shave cream

Hand soap
Uncoated paper wrapper made from 100% post consumer waste.
85% certified organic ingredients
biodegradable
No nasty chemicals, such as sulfates (SLS, SLES) detergents, parabens, fragrance, dioxane, DEA, formaldehyde, PEG-6

Cheap fillers like water, etc.
Press
"This little guy clearly delivers: clean skin & hair, and plenty of lather that you can build up just using your fingers, for a smooth shave." — Mensgear
Does your brand check all the boxes?
WHAT MATTERS
AKAMAI
Most "Natural" Brands

100% natural ingredients ONLY

No cheap fillers

(eg water, thickeners, gums)

Minimally processed, nutrient dense ingredients ONLY

Leverages transdermal effect to improve health

No fragrances, sweeteners or flavorings

No synthetic, naturally derived or toxic chemicals

Vegan, cruelty, gluten & petrochemical free

Blows past EWG Certified Standards

Multipurpose products

(e.g 3-1 Bar, Skin Fuel)

Simplified, health focused routines

Sustainable packaging

(eg. glass, refillable system, compostable)

Fair pricing

(high quality and reasonable prices. Direct to consumer / no middle man)

No greenwashing or healthwashing

Won't sell you things you don't need

Certified B Corporation

(we use business as a force for good)

1% For the Planet Member (donate 1% of sales to environmental causes)

100% Satisfaction Guarantee
100% Satisfaction Guarantee
We stand behind everything we make — investing an enormous amount of time and energy in developing them. If for any reason you are not happy with an item you purchased, you may request a refund or store credit.


100% Satisfaction Guarantee
We stand behind everything we make — investing an enormous amount of time and energy in developing them. If for any reason you are not happy with an item you purchased, you may request a refund or store credit.
100% Satisfaction Guarantee
We stand behind everything we make — investing an enormous amount of time and energy in developing them. If for any reason you are not happy with an item you purchased, you may request a refund or store credit.
Learn more here
Rooted In the best thinking and minds in oral and body health.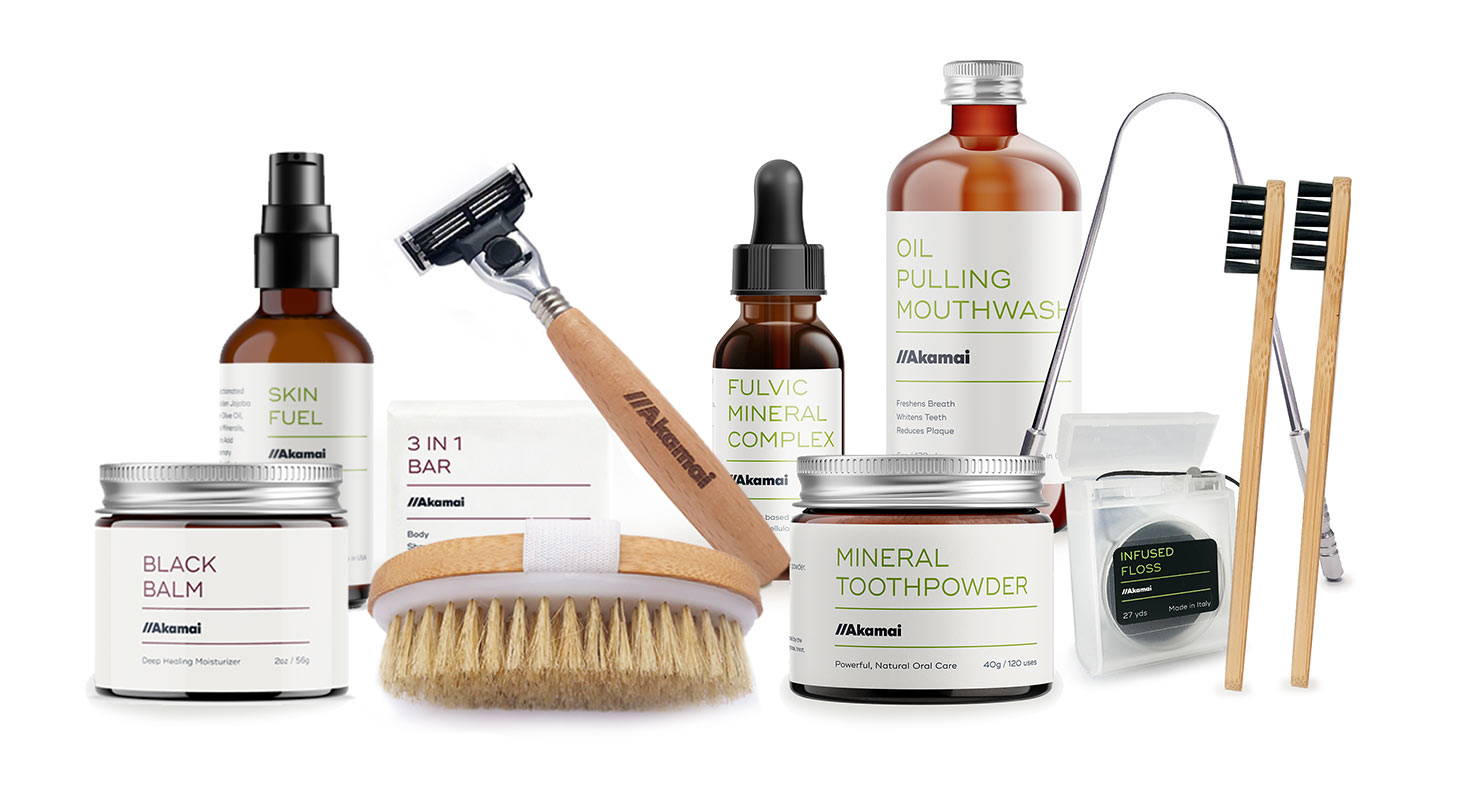 I love the 3 in 1 Bar
I love using the 3 in 1 Bar for my shower. I smell CLEAN! Not perfumery….and not stinky still. I just smell clean. 😊 I really like it a lot. Sheryl S. from N.Y. S.
It's a must-have for our home
I keep 10 of these in stock at all times - everyone in our house uses this soap, even the pups! Love that it's non-irritating, and unscented, so no one can complain about the smell. Anytime I don't have to hear complaints as a mom, I keep it around : )
I was skeptical but....
Fantastically surprised and happy when my son told me he loves this 3-in-1 bar. I had bought it so he could test it out because he doesn't like a lot of extra stuff. So wrapping up a couple of products into one simple one is perfect for him. I'd highly recommend trying this bar.
This is a nice bar of soap for body and hair.
This soap was nice but I wish it was more fragrant.
Scrunbs Clean
While I use the 3-in-1 BAR as both hair and body wash, I especially love the way it deep-cleans my hair while not drying it out. It's pretty good as a face wash, too, and it easy to pack for trips.
Great Soap, bad match for hard water?
I started with Akamai maybe a year ago, I first tried the tooth powder as I was looking for a real product that actually cleaned my teeth. The tooth powder is fantastic, my teeth have never felt so clean or looked so white, so I then decided to try the oil pulling mouthwash- also a great addition to the lineup. Getting to the dentist hasn't happened during the pandemic but the tooth powder and oil pulling mouthwash have been essential in keeping my teeth healthy. So I then tried the fulvic mineral drops to help add some minerals I may be lacking, also a great addition. Recently, the condo I live at has had a HUGE water quality shift, the water I'm guessing has suddenly turned very hard making it very difficult to lather and rinse my hair. Although this seems like it is not a huge deal, over the long run hard water can wreak havoc on your hair and drive you nuts. SO.. I decided to give the 3 in 1 bar a shot, now I was very satisfied with how well it lathered and it made my hair feel very silky smooth as I scrubbed my hair-BUT the second I put my head under the shower water it felt like someone poured glue on the top of my head and I'm not blaming the 3 in 1 bar I'm blaming the hard water I'm showering in! The soap is a great product, I'd love to try it out with soft water..maybe someday =(. Any suggestions on natural shampoos that work well with hard water would be welcomed, I currently use "Organic Excellence" shampoo. Also it would be interesting to know if the Akamai team has any thoughts on using the 3 in 1 bar as a shampoo with hard water, I'd love to learn more about the science behind my current hair torture.
Hi KL -- Thanks for your thorough review! Other customer's really appreciate this kind of feedback -- as do we!
Regarding you hard water issue, we recommend you try using a vinegar rinse (20% vinegar to water) to help remove the build up. White or apple cider vinegar will work -- or a citrus. (The idea is to use something benign that is acidic) It's a great way to condition hair and can also be used to remove residues left behind from most shampoos and conditioners (particularly silicones). Let us know if this helps,
With gratitude.
Best soap ever. It's all I use. It even replaced shampoo for me.
Love it for sensitive skin
This is the only soap that doesn't beg to be followed by lotion to ease itchy skin. It leaves my skin feeling soft and soothed after shaving or washing. This little bar has a lot of longevity, and it lathers up perfectly when used with exfoliating shower gloves. Love it!
Super Sudsy!
I've transitioned from soap, shampoo, and conditioner to only usine the 3 in 1 bar. It super sudsy, cleans very well, and smells nice. I don't like strong smelling anything, so the understated smell is very pleasant. The only soap I use.