translation missing: en.products.product.price_per_unit_html
No fluff | no inflated costs | no toxic chemicals | no hype
Fair Trade / Fair Labor

Only Natural

Unisex
translation missing: en.products.product.price_per_unit_html
Our simple, classic razor handle made using sustainably harvested beech wood.
Designed to work with Gillette® Mach3™ blades delivering the best possible shave.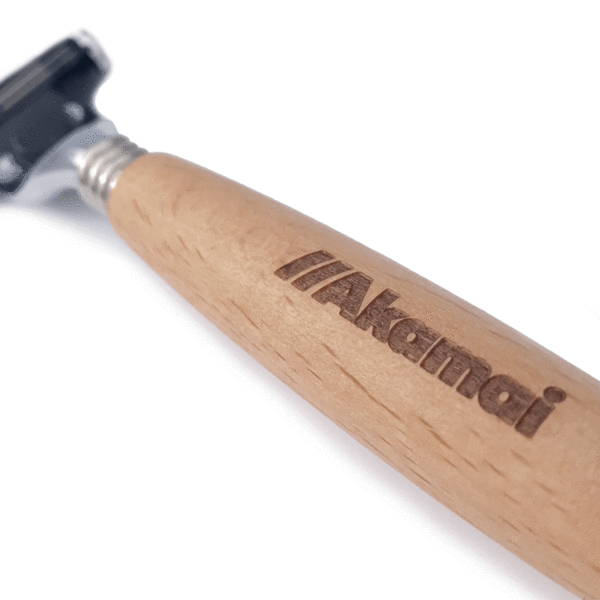 Ergonomic,

eco-friendly design gives you control when shaving and will last for years.

Gillette Mach3™ blades are simply the best.

Superior quality blades deliver an outstanding shave & stay sharper longer.

Works with our smart, simple shaving solution:

3-in-1 Bar + Mach3™ blades + Skin Fuel.

Made from sustainably harvested, durable beechwood.

FSC certified.

Includes one Mach3™ razor.

Engraved with "Akamai" — Hawaiian for "wise".
Made in China | Fair Trade & Fair Labor
MATERIALS / STANDARDS / SPECS
We wanted to offer a basic, sustainably made handle to go along with Mach3™ blades — the razor blades that we, and many others see as the best blades available.

They're not fancy, offer good value (especially when coupled with our "non sanctioned" technique to extend blade life 3-5x), and are made with the best steel and sharpest blades for a clean, smooth shave — and long-lasting blade.
Slip the Akamai Razor Handle into a Mach3™ cartridge until it clicks.

Need more razors?

You can get them here.
Our handle holds up well in the shower, however, storing it outside of the shower will allow it, and more importantly, the blade, to properly dry. Like any wooden utensil, it should not soak in water.
Our recipe for a smart, simplified shave?
Akamai Razor Handle made from FSC sustainably harvested beechwood.

3-in-1 Bar

— an excellent lubricant for shaving.

Skin Fuel

to soothe, nourish and condition the skin.



You can buy these products separately, or purchase the Akamai Shave Kit to get started.
Materials
*Beechwood
Die-cast zinc
Polished chrome
Plastic
*FSC Certified sustainably harvested
Quality standards
Designed in the USA

Made in China using Fair Labor & Fair Trade
Specs
Weight: 2

7 grams (1 oz)

Handle length: 4.75 inches without the razor cartridge (5.5 inches with)
Q: How can I extend the life of my razor blades (50-75 or more uses)?
Start with a high-quality blade, the best we found is Gillette Mach3... (Superior engineering and the highest quality stainless steel blades deliver an outstanding shave while staying sharper longer).

Rinse the blades thoroughly with hot water until clean.

Shake off excess water and tap the back of the cartridge on a towel. You can also blow into the back of the cartridge head to push out water.

Rub the front of the cartridge upward on towel 3-5x.
See our help section for more questions and answers...
What makes this product sustainable?
According to the New York Times, each year Americans throw away 2 billion disposable razors.
Our Razor Handle is made from FSC sustainably harvested beechwood which will last you a long time.
Plastic (aside from a small fitting where the blade attaches).
Replaces these kinds of products

Expensive, fancy bloated, hyped blades.

Disposable plastic razor handles.
Does your brand check all the boxes?
WHAT MATTERS
AKAMAI
Most "Natural" Brands

100% natural ingredients ONLY

No cheap fillers

(eg water, thickeners, gums)

Minimally processed, nutrient dense ingredients ONLY

Leverages transdermal effect to improve health

No fragrances, sweeteners or flavorings

No synthetic, naturally derived or toxic chemicals

Vegan, cruelty, gluten & petrochemical free

Blows past EWG Certified Standards

Multipurpose products

(e.g 3-1 Bar, Skin Fuel)

Simplified, health focused routines

Sustainable packaging

(eg. glass, refillable system, compostable)

Fair pricing

(high quality and reasonable prices. Direct to consumer / no middle man)

No greenwashing or healthwashing

Won't sell you things you don't need

Certified B Corporation

(we use business as a force for good)

1% For the Planet Member (donate 1% of sales to environmental causes)

100% Satisfaction Guarantee
100% Satisfaction Guarantee
We stand behind everything we make — investing an enormous amount of time and energy in developing them. If for any reason you are not happy with an item you purchased, you may request a refund or store credit.


100% Satisfaction Guarantee
We stand behind everything we make — investing an enormous amount of time and energy in developing them. If for any reason you are not happy with an item you purchased, you may request a refund or store credit.
Rooted In the best thinking and minds in oral and body health.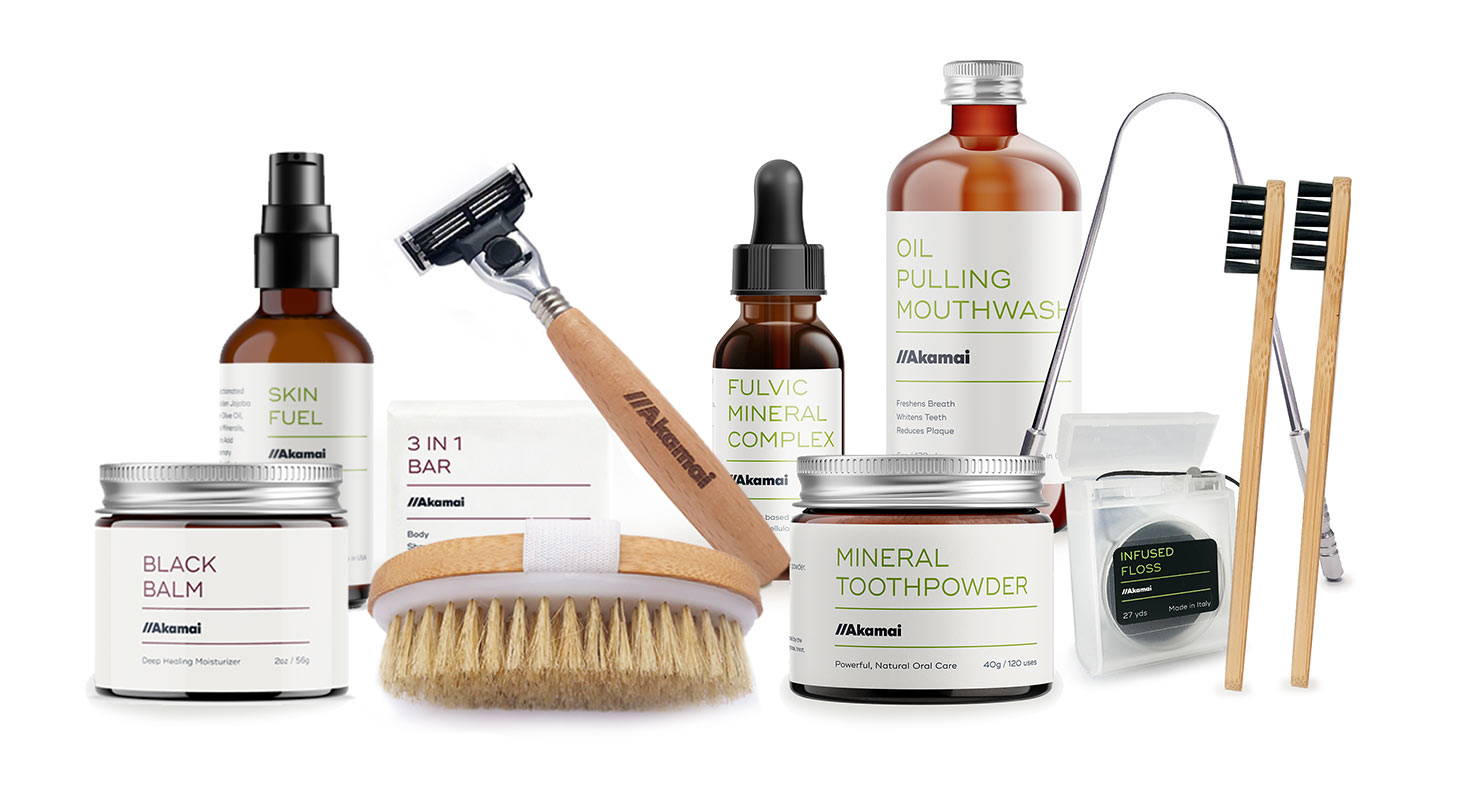 Blades stay attached
I love that the razor head doesn't pop off as it did on the plastic handles I used before this. It's well designed ergonomically and nice-looking enough that I don't have to hide it. Best part....reducing plastic waste!
Best shaving experience ever!
I love the handle, and the razors are very effective.
Ergonomic
Perfect razor handle design! Love the feel and balance of this handle. I really can't say enough good things about it. Not using disposable pink razors ever again! The quality and directions provided will make for a lifetime investment. I didn't realize the quality of other razors was so poor till I made the change to Akamai's products.
Never gave "ergonomic" much thought, until now
I guess I never gave razor handle design much thought, and it didn't seem lacking in my routine. Then I tried this handle. It is so much easier and nicer! This is a massive upgrade from the plastic crap I've been using. I kinda feel a little fancy using it, which I also like. But my favorite part is not having massive anxiety about the waste generated from continuously throwing out disposable razors. Fingers crossed it lasts as long as you say it will - I'll do my part and take care of it and the blades! Easier to use, more luxurious, AND less wasteful - 5 stars. Thanks Akamai!