Akamai INFUSED BLACK FLOSS
translation missing: en.products.product.price_per_unit_html
No fluff | no inflated costs | no toxic chemicals | no hype
Fair Trade / Fair Labor

Mission Driven

Non-GMO

Refillable Container

Scientifically Proven

Unisex
Akamai INFUSED BLACK FLOSS
translation missing: en.products.product.price_per_unit_html
Clinically proven to remove up to 40% more plaque than typical flosses.
Infused with powerful Essential Oils and Fulvic Acid to support oral health. Our eco-friendly, Refillable Floss System™ reduces waste by more than 70%. Plus, the black color makes it easy to see how much plaque you are removing. None of the nasty chemicals or flavorings commonly found in flosses.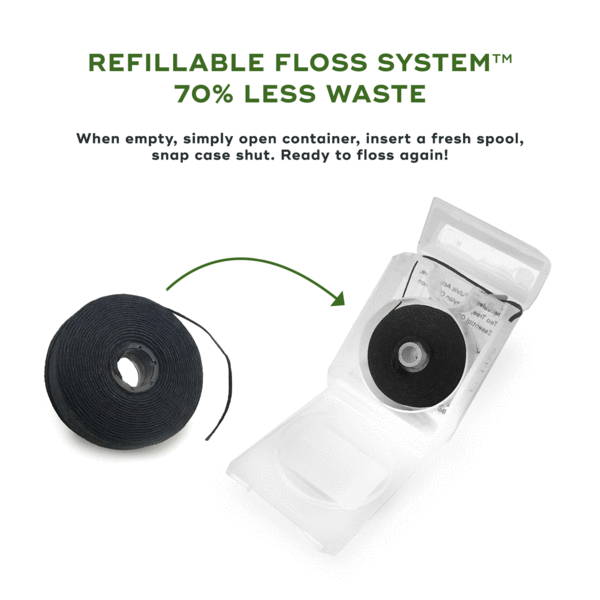 Infused with Fulvic Acid and a blend of Essential Oils (Tea Tree, Ceylon Cinnamon & Clove) to support healthy gums by detoxing and fighting bad bacteria.
Expandable floss technology grabs more gunk.

500+ multifilaments, each thinner than a human hair.

Clinically proven to remove up to 40% more plaque.

Natural beeswax helps floss glide between teeth.
NO suspect chemicals, coatings or flavorings of any kind. Of course free of any

toxic chemicals such as

PFAS

.

Refillable Floss System™ reduces waste by 70%.

When you run out, simply pop open the case and insert a new spool

(refills sold separately)

.

60 day supply

flossing once a day using approximately 16" each time.

Part of our Oral Care System endorsed Dr. Mark Hyman as a Mark's Picks.
Made in Italy | Gluten-free
MATERIALS / STANDARDS / SPECS
We spent hundreds of hours researching and testing a wide range of tools designed to remove bacteria between teeth and gums. Everything from dozens of floss brands and styles — including silk floss (breaks, just ok at removing plaque and bacteria), Glide (nasty chemical coatings), and others. We also tried oral picks (tons of plastic waste, bulky, expensive) and other tools.
None did the job as we envisioned. We thought…
Why not optimize floss so that in addition to removing plaque, it was infused with ingredients beneficial to oral health?

Doing so was a real technical challenge as we worked with our dental advisors and engineers at our manufacturing partner.

Why not drastically cut waste & make it refillable?

Our Refillable Floss System™ does that, reducing waste by more than 70% over traditional flosses. When empty, simply pop open the case and insert a new bobbin.

Why not utilize advanced thread technology?

Our floss uses an advanced multifilament thread technology made up of 500+ filaments — each strand thinner than a human hair. Our multifilament threads expand to grab more crud from between teeth and gums. It physically traps and removes more bacteria.

Why not make it a color that is helpful?

We chose black as a color that helps give a visual guide for the amount of stuff you are extracting.
The more we researched the more we realized how crucial flossing is to oral health.
Did you know?
Poor oral health and gum disease can be linked to several ailments, such as endocarditis, heart disease, rheumatoid arthritis, diabetes, premature birth, and many other health conditions like pneumonia.

An estimated 300-500 species of bacteria live inside our mouths and can be found in plaque. While some are beneficial, most are not. Look under the

microscope.

According to a Delta Dental national public opinion poll of American adults, 20% of adults never floss, and 32% of adults reported no flossing in the past week.
Use approximately 14 - 18" of floss.




Gently slide it against the side of each tooth, with a motion to draw debris away from the gum.




Advance to a clean section of floss each time before inserting.
Establish a solid flossing routine. Here's what works for us.
Try to do it at the same time, every day.

Miss a day (or several)? Just floss at your next designated time. Don't beat yourself up.
Make a visual reminder. Keep your floss on your bathroom sink, in your purse, or car console.
Don't run out. Just like a core supplement, this good habit can die if you run out. (Consider subscribing to our spool refill as a reminder for yourself —"It's gonna keep coming and I want to do this daily").
Remind yourself while flossing that you are removing bacteria that a) contributes to bad breath, and b) could lead to systemic diseases like heart disease, Alzheimer's, etc.
Haven't flossed in a while? Like with our tongue cleaner, use the appearance and the smell (yikes!) of what you remove as inspiration to keep it up. Yep, it's kinda gross, however, it does provide great inspiration to make flossing a part of your daily oral hygiene routine. So, get on it and get it out of your mouth daily!
As always: no synthetic or natural derived chemicals, cheap fillers, dyes, or fragrances. Color and scents are a byproduct of the ingredients we use. All products contain only pure, minimally processed, natural ingredients and nothing else.
Ingredients / Materials
Infusion:
Fulvic Acid

Clove Essential Oil

Tea Tree Essential Oil

Ceylon Cinnamon Essential Oil

Beeswax
Floss: Polyester multifilament microfiber.
Refill Case: Polypropylene
Quality standards
ISO 90001 quality certification.

Gluten-Free.

Made in Italy.
Learn more about our natural ingredients and their quality standards.
Specs
Weight: C

ase & floss: 17 grams. Spool refill: 6 grams.
Q: Why should I floss daily?
A: According to the Academy of General Dentistry (AGD), flossing is the single most important weapon against plaque. By flossing your teeth daily, you increase the chances of keeping your teeth a lifetime and decrease your chances of having periodontal (gum) disease and tooth decay.

Q: How do you use the refill system?

When empty, pop open the case & remove the old spool's plastic ring.

Insert a 2-month refill spool.
Q: What if the spool doesn't fit?

A: During manufacturing, slight overrun variances can occur during high-speed spooling of thread. If this happens, extra floss needs to be unwound and cut in order for the replacement spool to fit in the case. Simply unwind a bit, cut off the excess and insert spool. We understand this is not ideal and are working with our manufacturer to fix the issues.
Q: What if the small metal part (floss cutter) comes loose?
A: Just slide it back into position. To avoid losing this piece, be sure to open the container and change over a flat surface (not your sink!).

For a list of dental flosses with PFAS see here
Flossing questions answered by the American Dental Association
When's the best time to floss?


The ADA recommends brushing twice a day and cleaning between teeth with floss (or another interdental cleaner) once a day. Some people prefer to floss in the evening before bedtime so that the mouth is clean while sleeping. Others prefer to floss after their midday meal. Still, others chose to floss first thing as a part of their morning ritual. The bottom line is that the best time to floss is the time that fits well with the individual's schedule.

Should I brush or floss first?


According to ADA, either is acceptable as long as you do a thorough job. Some people like to floss before brushing to better ensure that any material between teeth is swept out of the mouth. Others prefer to first clean their mouth by brushing before working with floss between their teeth. However, those who brush their teeth and skip flossing because they think their mouth feels clean or are short on time or tired and postpone flossing for some later time are likely missing out because flossing may never happen.

Can I rinse and reuse floss?


The ADA does not recommend using a floss strand more than once. Used floss might fray, lose its effectiveness, or may deposit bacteria in the mouth. Discard after use.
Learn more from the ADA
Peer-reviewed studies and papers
Learn more about Oral Health and Routines
70% less waste with our Refillable Floss System™
If everyone on our planet flossed 1x a day, the plastic containers disposed of in a single year could fill a football stadium 6 stories high.

Our floss container can be refilled many times. Using our refills and the original container has the potential to cut plastic waste by 70% or more.

Subscribing to our refill spool of floss not only has an environmental benefit but will keep you reminded to keep up with your beneficial floss routine.
No synthetic flavorings — either totally artificial or "naturally derived".

No chemical coatings commonly found in many flosses. E.g Perfluorochemicals (PFCs) (added for the "glide factor") which are linked to thyroid disease, dementia, cancer, fertility issues, and birth defects. Read more on the study here.

100% Satisfaction Guarantee
We stand behind everything we make — investing an enormous amount of time and energy in developing them. If for any reason you are not happy with an item you purchased, you may request a refund or store credit.


100% Satisfaction Guarantee
We stand behind everything we make — investing an enormous amount of time and energy in developing them. If for any reason you are not happy with an item you purchased, you may request a refund or store credit.
100% Satisfaction Guarantee
We stand behind everything we make — investing an enormous amount of time and energy in developing them. If for any reason you are not happy with an item you purchased, you may request a refund or store credit.
Learn more here
Rooted In the best thinking and minds in oral and body health.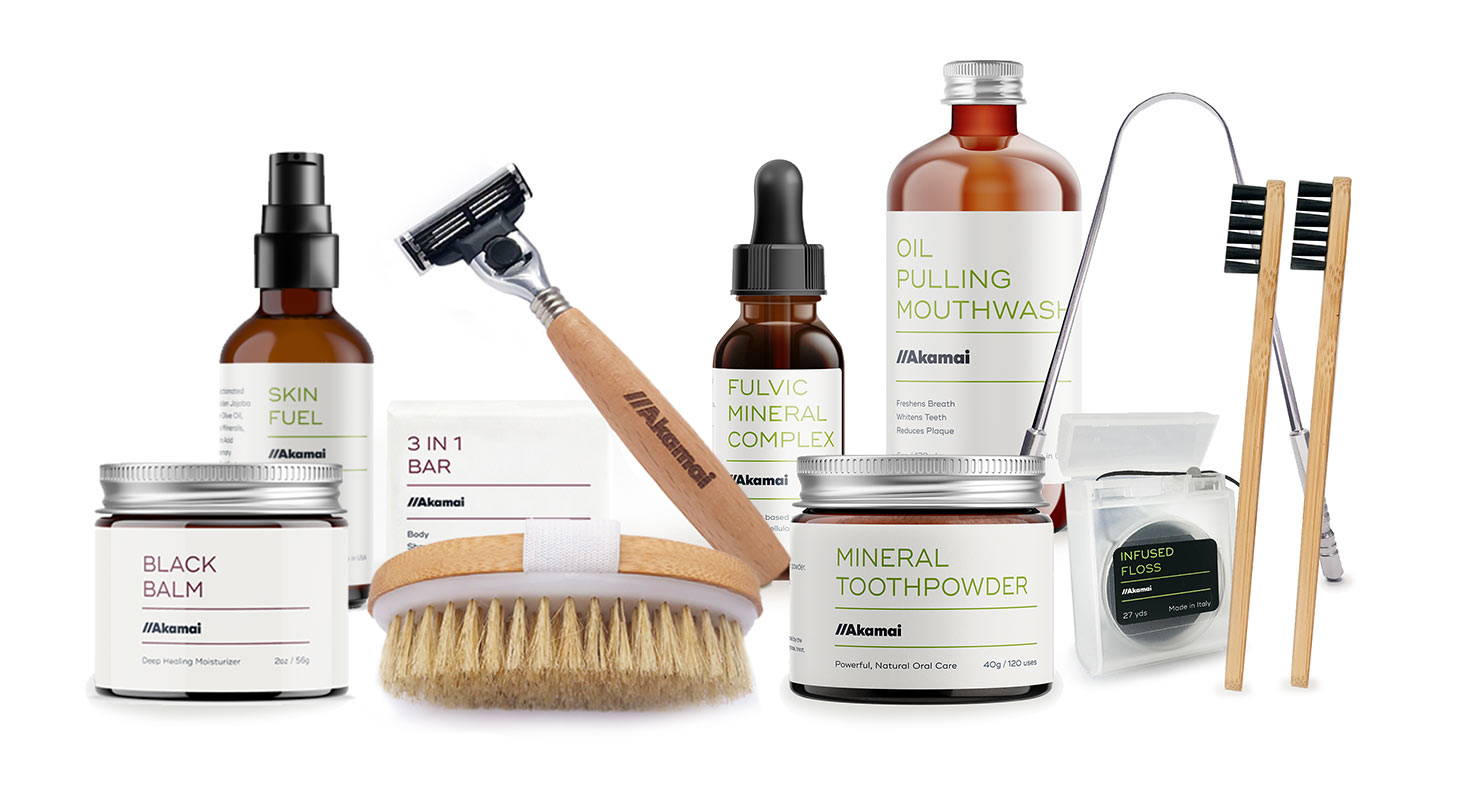 Floss
I do love this floss! I'm not a fan of minty fake flavored flosses. This is a bit earthy, but I know it is a safe foods and clove is so good for your gums. It is, as I knew, on the thicker side.
I'd love a bit of a flavor choice as well as with the tooth powder. This is a great product.
Love it!
I love this floss cause I have crooked teeth and very tight spaces to get floss in and this is strong and easy to slide in. I also love the fact that I can see what comes out alot easier. Thanks
Awesome floss
I look forward to flossing now unlike before!
This Works!
I like that you can see exactly what comes out! I have only used this only for a few weeks but I really like it!
Akamai INFUSED BLACK FLOSS SPOOL REFILL
Amazingly good
more than impressed with this product. Very easy to use -- and actually feels good using!!! Good results every time. Will definitely buy again and highly recommend.
Love Love Black floss
I first got this in a sample box and I love it.
Love seeing what was stuck in my gums that it was able to remove because I do have gum issues.
The best floss
I've tried plain, waxed and flavored dental flosses, and Akamai's infused black floss is hands down the best. It is much less likely to cut into the gum between my teeth, AND it cleans SOOO much better.
Smart and healthy alternative
The fact that this floss is black PLUS the refillable container are both things I'm truly appreciating about this product. It is good to know the floss has natural antibiotic properties and so clearly shows what is getting dislodged between teeth. I'm grateful that it works well in between some very tight contacts and holds up to them. Great product.